Twenty years ago, architect Nilesh Patel made a beautiful short film about his mother making samosas. He made it for love and he made it for the future. Two decades later we asked him to revisit his feelings about A Love Supreme and see if the memory has changed since.
A Love Supreme is a nine-minute documentary of my mother's hands preparing samosas, a traditional Indian dish of fried pastry parcels, filled with vegetables. She suffers from rheumatoid arthritis in her knees and shoulders, and my film was made in case the affliction spread to her hands. I did not want simply to record my mother's hands but to make a film that recreated the sense of extraordinary speed and strength I had observed as a child, and the grace and precision appreciated when older. Some of these qualities were fading, and techniques such as rapid montage and various camera speeds were deployed to achieve this. Although not a filmmaker, I approached the documentary film form as a document first, and the use of 35mm film as an archival medium that could survive for 100 years. I was interested in the dichotomy created by an amateur home movie made to Hollywood standards of sound and picture quality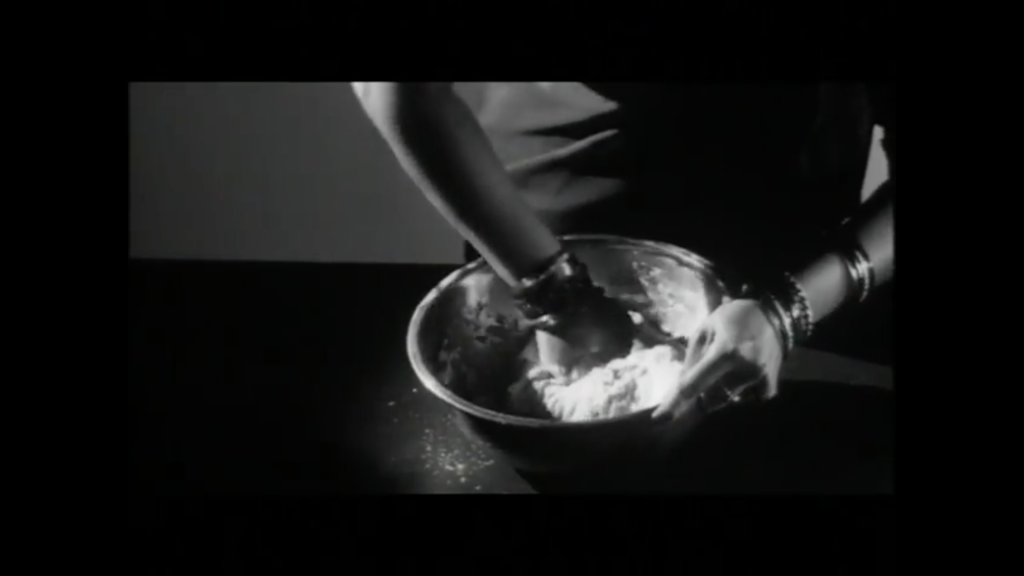 The concept and representation of memory were central to its development, and would be explored through five sets of relations: memory, subject, film-maker, viewer, community, and cinema. My mother was taught by my grandmother, whom I regret not recording in a similar fashion, and I hoped that her memories of this would be triggered by viewing it, as she was the eldest of nine children and was responsible for feeding younger siblings whilst still a schoolgirl. The formal presentation enables viewers to project an image of their own mother, grandmother, daughter, wife, sister or aunt onto the isolated images of hands at work. This enables them to recall memories of similar labour-intensive dishes, observed and consumed, whether they be dim-sum, artisan pasta or the perfect apple pie.
This was one of the reasons why my mother's face is not revealed in the film, and it also informed the film's production design and use of black and white photography. Unlike most documentaries, little factual information is provided about the subject, such as names, dates, times or locations. In fact, the subject is removed from any context and placed in a carefully designed but neutral setting.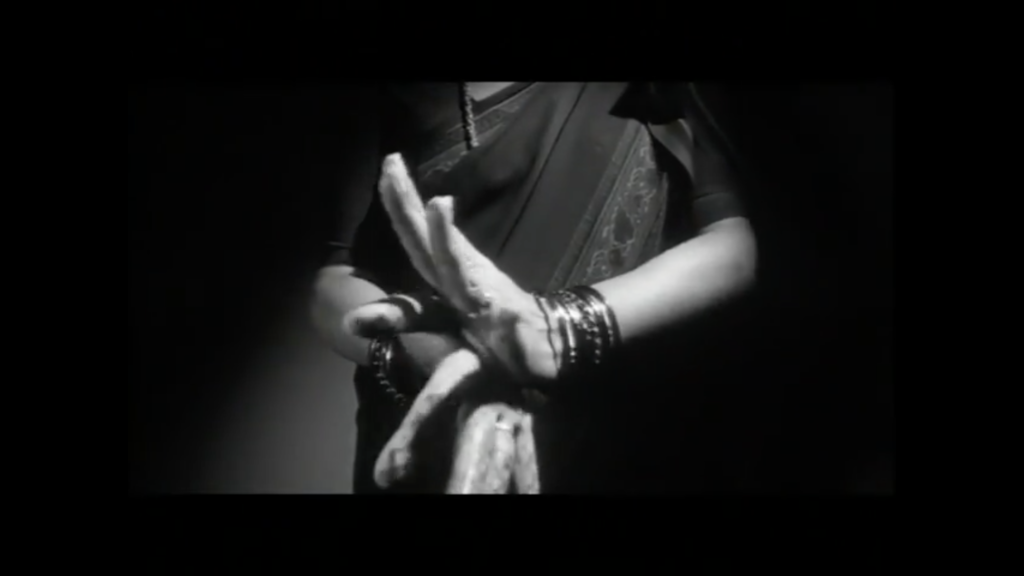 My intentions were to produce a film that I and my family could view in the future. If my mother's arthritis were to spread irreversibly, my film would preserve the many hours of samosa-making carried out over several decades and on numerous special occasions, such as birthdays and exam successes. Mothers feed you before you leave the womb and, for those of us fortunate to have been nourished by lovingly prepared hand-made food, nothing prepared by any celebrity chef or Michelin star winner compares to a plate of such cooking. Former immigrant communities are abandoning traditional practices. Some become redundant, some are updated, but others will be lost and, as a documentarist, I hope the film will be discovered by future generations of my family, and Asian communities, and that contemporary viewers might re-evaluate this everyday object and appreciate the extraordinary skill expressed in its production.
I have vivid memories of first viewing Martin Scorsese's Raging Bull and Stranger than Paradise by Jim Jarmusch, for the visceral possibilities of editing and sound design – the first as one of the last black and white films, by a major director, of the pre-digital era, and the second for its adaptation of limited budget and resources towards effective film form and style. The generosity of experienced filmmakers and musicians enabled me to complete my film and festival and cinema programmers have presented my documentary to a wide audience since. Like any other filmmaker, I hope that it will remain in the memory of all those who have seen it.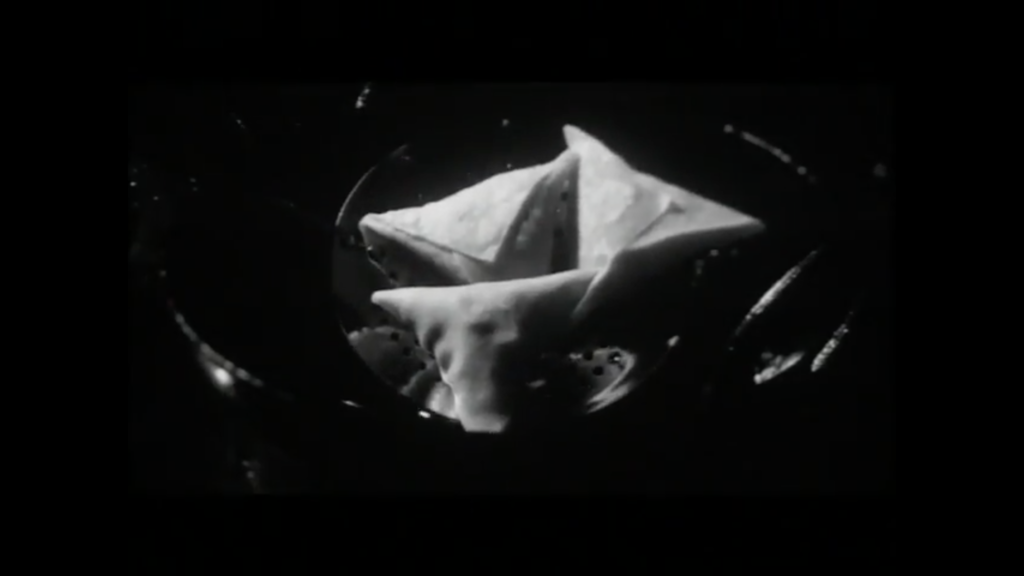 Food filming and photography has become more widespread since I made my film. Instagram did not exist back then. Digital cameras were just becoming affordable at the time, and people were able to upload clips of home movies. I wanted my film to remain in my family's archive for as long as possible and so I decided to shoot on 35mm film. Also, at that time digital cameras could not really film in slow motion very well, even high-end professional cameras.
My film was not really about the ingredients or the cooking, it was about memory and remembering. It was filmed with traditional utensils and a neutral background that you cannot place. Black and white photography were used to evoke my mother's memories of watching her mother cook in Nairobi, but they also mean that the film does not reveal its date or location, so it is timeless in a way. It has almost no factual information. I wanted viewers to experience it as a piece of pure film. You do not need to know anything about the subject or even follow a narrative – you can just look and listen and hopefully appreciate the skill, artistry, patience, accuracy and most of all love that goes into hand-made food. My mother is not a chef and has never had a restaurant, cookbook or even published a recipe. She is not a celebrity or Michelin-starred chef but I felt that people like her deserve to be recognised and most of all, recorded with the best sound and picture quality for future generations.
I do not have children of my own, but I do have a nephew. He attended the first screening of the film in SoHo, London in 2001, aged 9 months. I have not made samosas with him yet but perhaps we will both need to learn in the future.
Postscript: Here's a thought on a perspective that has changed since I made the film: if I had contracted Covid-19 and died in the last year, the film could have ended up reminding my mother of something I had made instead.
Nilesh Patel is a practising architect and film-maker based in London with his firm The Architects Film Studio. His debut film A Love Supreme qualified for the short documentary Oscar® category and is held in the collections of the British Film Institute and the Museum of Modern Art in New York. 
This text is an adaptation and update of a text Patel first wrote for the Close-Up Film Centre's Vertigo magazine back in 2004. All film stills courtesy of www.architectsfilmstudio.com.