Pastry chef Fiamma Aleotti talks to the baker and food stylist Sarah Hardy, the artist behind the Instagram account Hebe Konditori, about her side gig creating complex and arresting cake creations, films, fairytales and dairy-free food for the gods.
Stumbling across Hebe Konditori's Instagram account is like entering an oneiric realm: these cakes are simply dreamy. The decoration is complex, yet the colour palette is soothing and there is often something else to these images. There's an atmosphere, a story behind each shot and it's what makes these beautiful cakes stand out even more.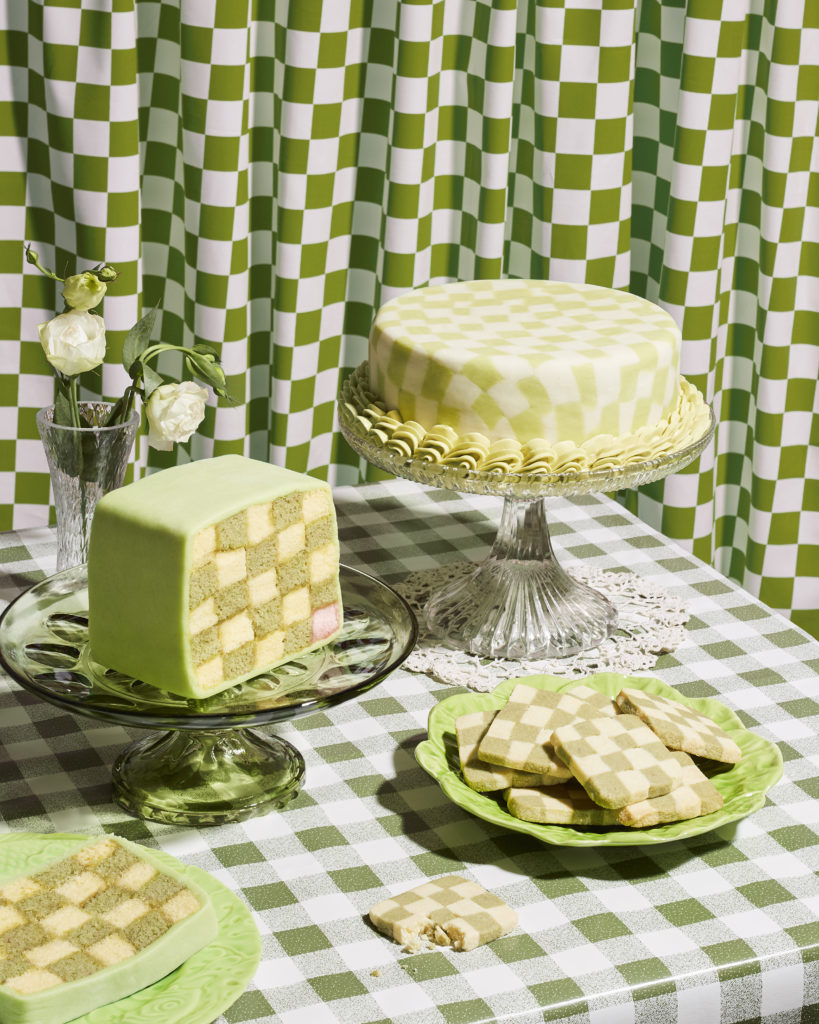 Hebe Konditori is an online cake business started by the English artist Sarah Hardy in 2017. "The name Hebe comes from one of the daughters of the Greek gods, who fed nectar and ambrosia to the higher-up Greek gods, and Konditori is a Scandinavian word for a bakery that only does sweet things", explains Sarah. Although her main job is as a freelance food stylist for clients that include fashion brands Gucci, Vogue and Burberry, Hebe Konditori is the place where she shares most of her cake work (whether it's for private orders or magazine photoshoots). From the outside, it looks like there's an entire team behind all these creations but, she tells us, it's a one-woman show. Jaw drop.
There's a strong cinematic aspect to the images she shares. (In fact, she has a second Instagram account called Cake on Film. More on that later.) The aesthetic of her cake styling is reminiscent of 1950s and '60s cookbooks but the sculptural forms appear to have Ancient Greek art references with a nod towards the neoclassical. You could also be forgiven for thinking some of her creations had jumped straight out of Sofia Coppola's film Marie Antoinette. Still, none of these references alone does justice to Sarah's unique style.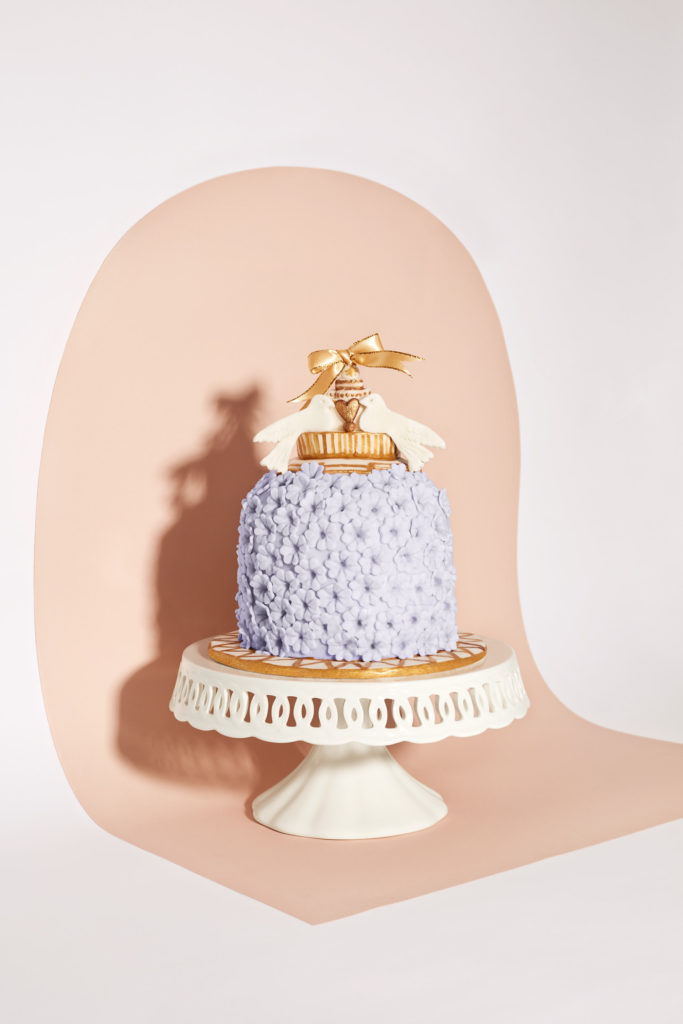 Sarah grew up in Yorkshire, studied sculpture at the Glasgow School of Art and is currently based in London. After finishing art school, she looked for a career path that would allow her to make a bit more money than she probably would as an artist and tried her hand at baking. After working for a couple of London bakeries, she realised the work can be monotonous and uncreative. "You just kind of churn out the same thing over and over again", she says, and it's not particularly lucrative either. So she turned to food styling instead and made her own cakes on the side, finally finding a balance between creativity and financial security.
With Hebe Konditori, she says "I obviously have a lot more creative control, I can pick and choose which cakes I want to make and can still design new things, and it doesn't matter if they are going to sell or not."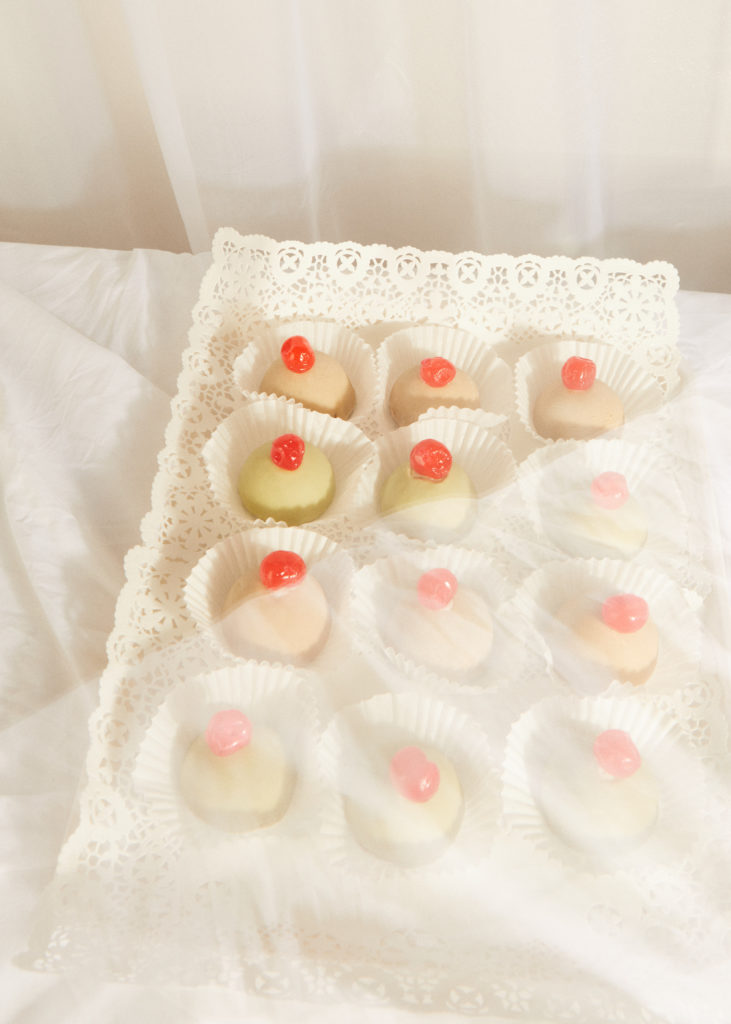 As a child, Sarah was really disappointed by the birthday cakes at birthday parties. "I'd always look through cake books and see one that looked like a castle and then expect that for my birthday and wouldn't get it, and I'd be like… (sighs). I think part of why I am now quite obsessed with making perfect-looking cakes is because I enjoy making something that someone really enjoys for their celebration."
The second thing that might impress you the most about her cakes, after their decorative perfection, would be learning that they're all vegan. "I've been vegetarian since I was around 13 years old", says Sarah. When products like oat milk became more widely available, making vegan cakes just seemed like a natural progression for her and the right thing to do: "especially when there's so much food waste. There can be a lot of food waste with cakes because they're so perishable."
To more and more people, veganism is an obvious evolution in the times we're living in, which is why the newer generations' relationship to it seems less and less strained. Sarah's cakes aren't vegan first and foremost, they are everything you could want in a cake and they also happen to be vegan.
Sadly, however, in the realm of food styling we're still a bit behind, with most useful products still coming from animal sources: "A lot of the time for styling, you still have to use non-vegan products just because they hold up under the camera better", says Sarah, "and you have to use gelatine sometimes because you can't get a clear jelly with agar. Hopefully, in the future, it will be a lot easier to do everything vegan."
So what does Sarah get from making cakes after hours when she already has a full-time job? "I guess it is quite a ritualistic thing, isn't it? There seems to be a cake for every sort of big life event. I think it's just a really joyous, joyous thing. A spectacle that brings people together."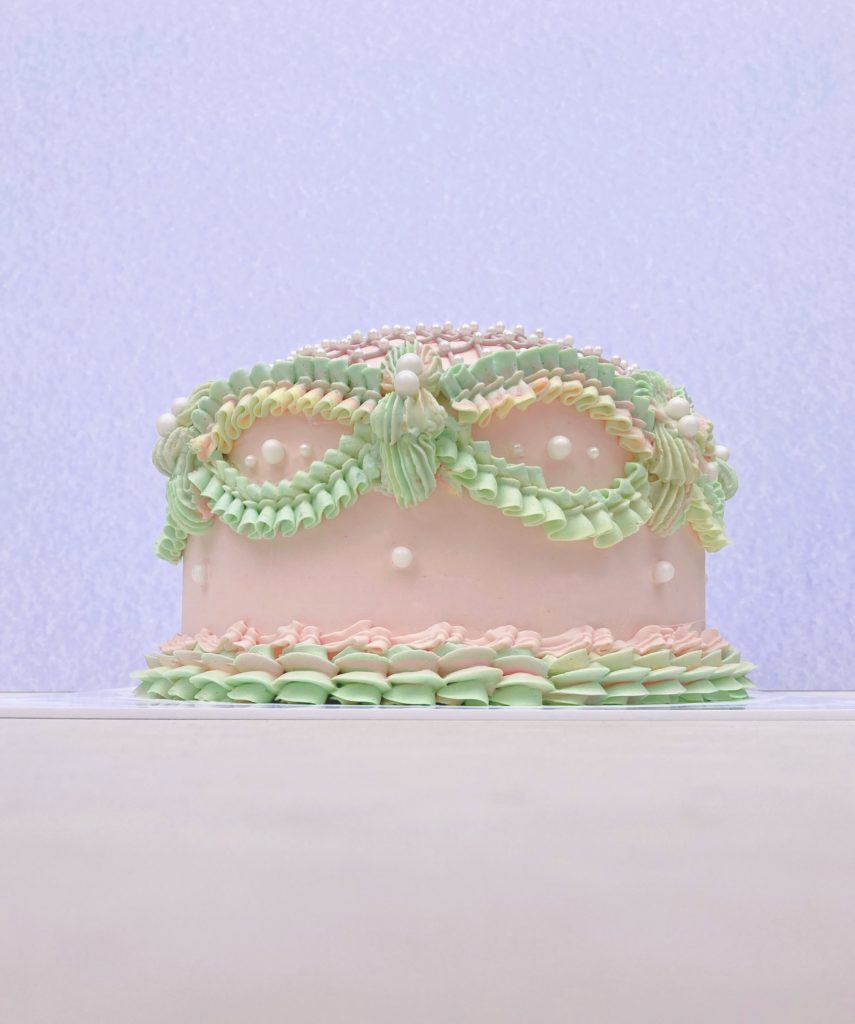 She then goes on to mention examples of particularly symbolic cakes, such as the Danish Kagemand or Kagekone, a birthday cake in the shape of either a boy or a girl. She says it reminds her of another, slightly more gruesome, ritual object, the wicker man.
Sarah's second Instagram account @cake_on_film is a virtual compilation of stills from movies where cake makes some kind of appearance. "Creating little worlds within the image is always interesting to me", Sarah says, "I think that's why food and film are so interesting because there's a whole story behind it. It's not just the object itself. My ideal goal is to document every single cake from every single film ever […] I'd love to have an actual exhibition of all those images as well, just because… I think I'm just obsessed with cake."
Fiamma Aleotti is a trained chef, half Colombian and half Italian and is fluent in Italian, Spanish, French and English. She grew up (mostly) in Costa Rica and currently lives in Berlin where she works as head baker and coffee shop manager at She Said, a bookshop for female and queer authors. She has her own blog called Cookies & Blowjobs, which is a platform for "exploring our relationship with food, our bodies, ourselves and one another." 
Title image: © Stephanie McLeod