For our five-question series on food and education at The Common Table, we ask experts about their strategies and practices for fostering a healthier relationship with food. Here: Johanna Mendelson Forman an expert on international post-conflict transition issues explains gastrodiplomacy, conflict cuisine and the role of food as a tool for peacebuilding.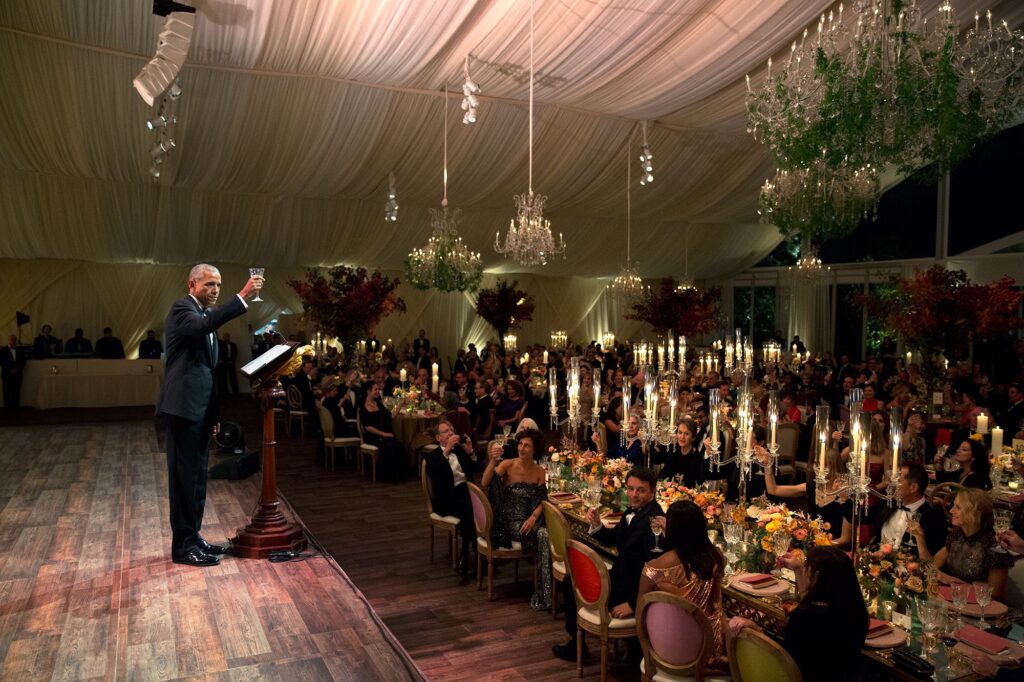 The Common Table: How would you explain your perception of food as an educational discipline or tool to someone who might think that means just cookery lessons?
Johanna Mendelson Forman: You must bring the issue of food down to a very basic level: everybody has to eat. It's not just about the recipes. Recipes are a roadmap. When people think about food, they immediately think of their survival, but they also think about pleasure. What's interesting today is the growing importance of food studies among anthropologists. In the middle of the last century, many anthropologists didn't think much about the role of food: it was missing. Then, social anthropologist Sidney Mintz pointed out that most anthropologists were men, maybe except for Margaret Mead, so they didn't write about women and "women's work". As more women entered the academic world, their research has contributed to a greater understanding of the power of food as a bridge towards a deeper understanding of human culture. Food is culture.
Another interesting thing about food and why it's beyond just cookery books is that you don't argue when you're eating. The Czech writer Franz Kafka once remarked that when you have a full mouth you don't fight. and I think it's true. Unless you are in a war zone, when you sit down at a table for a meal, you don't see it as a forum for arguing, you see it as a forum for nutrition engagement, for valuing what a person has prepared.
We should also consider the growing recognition of the inequality of food access, which is basically what food security is. Through the lack of access, which we see so frequently now in this world, exacerbated by the war in Ukraine, coupled with the ongoing impact of climate change and global migration, there's a growing understanding, even amongst people who are not academically trained, that there's a big problem there.
The Common Table: What are you doing/have you done to change understanding related to food?
Johanna Mendelson Forman: I live near Washington DC, which is a city of many diasporas. Usually, these diasporas are caused by wars that the United States was involved in, notably the Cold War. So we have a large Vietnamese population, a large Afghan population, a large Ethiopian population and a large Central American population, for example. These newcomers brought their cuisines with them, and some also shared their cuisines with the city by opening restaurants and cooking in them.
Food is portable, you can take it anywhere. If you flee a country, you may not be able to bring anything else, but you can bring your recipes. When I began to see these obvious connections between food and conflict through my work, that the diasporas of these different conflicts are bringing their own cultures with them through food, and because I work in an academic setting at an international relations school, The American University School of International Service, I thought, "Well, why can't I teach a course about conflict through the lens of food?" (I called the course "Conflict Cuisine: War and Peace Around the Dinner Table". Since I first started teaching it in 2015 it remains one of the popular classes at the school.)
I did this by engaging restauranteurs in Washington DC from these different countries to talk to my students. For example, we would have a meal at a Vietnamese restaurant owned by a woman who first fled North Vietnam to South Vietnam and eventually came to the United States as a refugee. I always feature a class about the war in Vietnam, what it was and how the conflict arose, and then we would go to the restaurant and have a meal. Usually, since I taught the course in the spring, we'd end up going to the restaurant around Lunar New Year, so the students would get to taste many of the speciality dishes. And the restauranteur enjoyed talking to students and explaining the different traditions.
A similar experience happened with an Afghan chef who was a cousin of Ashraf Ghani [President of Afghanistan 2014-21] She came to Washington as part of the large Afghan diaspora from the first Russian invasion in 1979 and she made an incredible meal for me and my students, explaining what these different foods were and how they were used. It was another example of someone who fled a war zone to find her tool for communicating through food.
I had the same experience with an Ethiopian chef, and chefs from Central America too. Washington also has very large populations from El Salvador, Nicaragua, and Guatemala. Through my network, I met Benjamin Velasquez who had fled the war in El Salvador. He was studying law originally but became a chef instead. Now he directs a large culinary training academy for immigrants and migrants in one of Washington, D.C.'s Charter Schools, the Sonia Gutierrez Center. He showed my students how to make pupusas, which are like fat tortillas stuffed with meat and cheese. He explained how he was able to use his food as a way to get into American culture. He also made the point that you don't have to speak the local language fluently to start working in a kitchen. You can work in a kitchen because it's kind of intuitive. And you can follow instructions without written instructions. This is why food can be such a gateway to different cultures, whether you are the person making it or the person eating it.
Since then my course "Conflict Cuisine: An Introduction to War and Peace Around the Dinner Table" has grown into a resource hub called Conflict Cuisine, which is a hub for academic work on diaspora food, gastro diplomacy, and most importantly, a growing thought centre for the social gastronomy network that is developing globally. It is also a place where practitioners can find resources for additional information, networks that share related interests, and information about the intersection of food, conflict and peacebuilding.
The School of International Service at American University, where I teach, is the largest undergraduate International Relations programme in the United States. We have about 2000 students. My courses are usually upper class with some juniors and seniors. This year I'm doing something different in the Fall on culinary and gastro diplomacy, as a practicum for graduate students. The State Department has had a food-as-statecraft programme for a while now but has never really looked at its impact. So, my students are going to have this mystery of evaluating it, interviewing chefs, and finding out what they did and how it impacted public diplomacy.
The Common Table: Where would you like to take your work in this field? What are your goals?
Johanna Mendelson Forman: On a personal level, I'd like to document the field more. I write a lot of articles including a column about war and food and gastro diplomacy for InkStick, where I have covered topics such as gastro-nativism concerning Ukraine, and Russia and the controversy over UNESCO's designation of Borsch as an intangible part of Ukraine's cultural heritage. I have also written about ways in which North Korea's authoritarian government uses its cuisine in government-sponsored restaurants abroad as a way to earn hard currency for the regime. Or, having been in Iraq in 2003 as part of my post-conflict work, a follow-up article about the food in Iraq today, postwar. I write on a lot of different subjects, but the theme is always: how does food build bridges or help encourage communication? I would love to write a book on this theme because I'm not young and I want to get this all down on paper.
On another level, it was always my goal to see some of the courses I'm teaching taken up and taught at other universities. In the United States, for example, every city has at least one Chinese and one Mexican restaurant. You could replicate what I was doing and show how different diaspora communities are in those cities, through food.
I have been thinking about making some of my courses more available generally. The conflict cuisine and the food security courses would be easy to put online, for example. I've been talking to some of the groups here that work on culinary diplomacy, about trying to do a basic course like I did for the Ukrainian Foreign Ministry to embassies here because aside from the major Western European countries, many smaller countries don't practice it, although they'd like to.
I think just a basic understanding of what the theory behind gastro diplomacy is could be helpful. In psychology, contact theory is the idea that if you can make contact with a person, you tend to build trust, and building trust is very important in conflict situations. Sharing a meal is certainly a trust-building activity. And there's been some psychological and market research that shows that people who have dined together have a higher degree of trust than those who just have an encounter and no food associated with it.
The Common Table: What is the big-picture perspective in terms of the future of food education and where is it coming from?
Johanna Mendelson Forman: It's local. In food education, what I find interesting is that we're now much more focused on the role that communities can play. I also serve on our local food council and what's interesting to me is the number of local farms involved and the programmes that they have for schoolchildren. The American chef Alice Waters started the Edible Schoolyard Project back in 1995. Since then, the programme has been replicated around the United States, where schools are using their property to have students learn about how food grows. My own county in Maryland has many projects that achieve the goal of providing nutritious food for children.
What's going to come top of this local perspective, in the future of food education, is making that connection between how food is grown locally and how it's linked to a global supply chain. Adults have already become aware of the impact of global supply chains just from shortages. As a result of COVID-19, for example, certain products weren't available because trucks or ships weren't working. And we are definitely seeing the impact of the war in Ukraine right now. 400 million people in the world depend on grain from Ukraine. So the war is having a tremendous impact on prices and inflation in countries that are totally dependent on that grain. It's having a devastating impact on access to food in those places.
I think another trend that I see in the United States is the recognition of indigenous cuisines. Our Native American peoples, of which there are multiple groups, have their own cuisines and celebrating those and bringing them to a broader audience is, in fact, one of the most interesting turnarounds taking place in the United States right now. Chef Sean Sherman, for example, has become a star in the culinary world through his focus on local, heritage plants, foodstuffs and cuisine.
There is an overlap here too with the revival of certain crops that are climate-resistant. For example, in Jordan, which is having a terrible problem with climate change, there has been a revival of an old variety of wheat that is drought-resistant. They're growing it right outside the airport there now as an experiment. So, some things that are existential threats can lead to new solutions. And I think that's a really interesting evolution in food knowledge and education.
To sum up, the main drive of what I teach and how I hope it can continue to help in the future, let me tell you an anecdote. I was giving some lectures in Kyiv shortly before the Russian invasion in 2022. During the break, a young Ukrainian diplomat came over to me and said, "Do you really think we can make peace with Russia with our food?" It's a tough question to answer. And I said, "You know, you've got to start somewhere". Food gives you something to sit around at a table and share. The concept of breaking bread together goes back to ancient times, when the common table was related to the family unit. Sharing food can certainly help build a greater understanding of what the challenges are. It is a bridge, it's not going to stop a war, but it is a bridge.
With more than two decades of international experience working on post-conflict transition and democratisation issues, Johanna Mendelson Forman knows a lot about the role of food in driving conflict and connecting people and communities. An Adjunct Professor at American University's School of International Service where she teaches "Conflict Cuisine: An Introduction to War and Peace Around the Dinner Table", Mendelson Forman encourages new ways of looking at diplomacy, conflict resolution, and civic engagement. She is also a Senior Advisor at the Stimson Center where she directs the Food Security programme.
Johanna also has extensive field experience with the U.S. Government on transition initiatives in Haiti, Iraq and Sub-Saharan Africa, having served as a Senior Advisor for Humanitarian Response at the U.S. Agency for International Development (USAID) where she helped establish the Office of Transition Initiatives (OTI). Her previous positions include serving as the Director of Peace, Security, and Human Rights at the United Nations Foundation; Senior Advisor to the United Nations Mission in Haiti, Senior Associate at the Center for Strategic and International Studies Program on Crisis, Conflict, and Cooperation and service with the World Bank's Post Conflict Unit.
She holds a J.D. from Washington College of Law at American University, a Ph.D. in Latin American history from Washington University, St. Louis, and a Master's of International Affairs, with a certificate of Latin America studies from Columbia University in New York and is a member of the Council on Foreign Relations and Les Dames D'Escoffier.