Trevor Warmedahl is a cheesemaker on a journey to document global cheese traditions and the rich variety of relationships people have developed with landscapes, livestock and indigenous microbes. Travelling on a shoestring budget and volunteering to work with the cheesemakers he meets along the way, he is immersing himself in the lives of people involved in raising dairy animals and fermenting milk, recording what he sees to reclaim and openly share both the oldest traditions and newest innovations. As he writes this, he is high up in the highlands of the Caucasus mountains, a guest of Tushetian herders, where he went in search of the most ancient of cheesemaking techniques but has found something more.
When I decided to take my journey as a cheesemaker in the direction of documenting the world's lesser-known cheeses, I knew I had to visit Georgia. Sitting at the crossroads of Central Asia, Eastern Europe, and the Middle East, many cultures have left their influence on the various ethnic groups practising pastoralism and cheesemaking here, often in mountainous areas. There are attempts underway to revitalise the rare cheeses that survived the Soviet imposition of lacto-monotony. In June of 2022, I decided to spend a few months seeking to experience some of these cheeses in situ and meet the people still making them.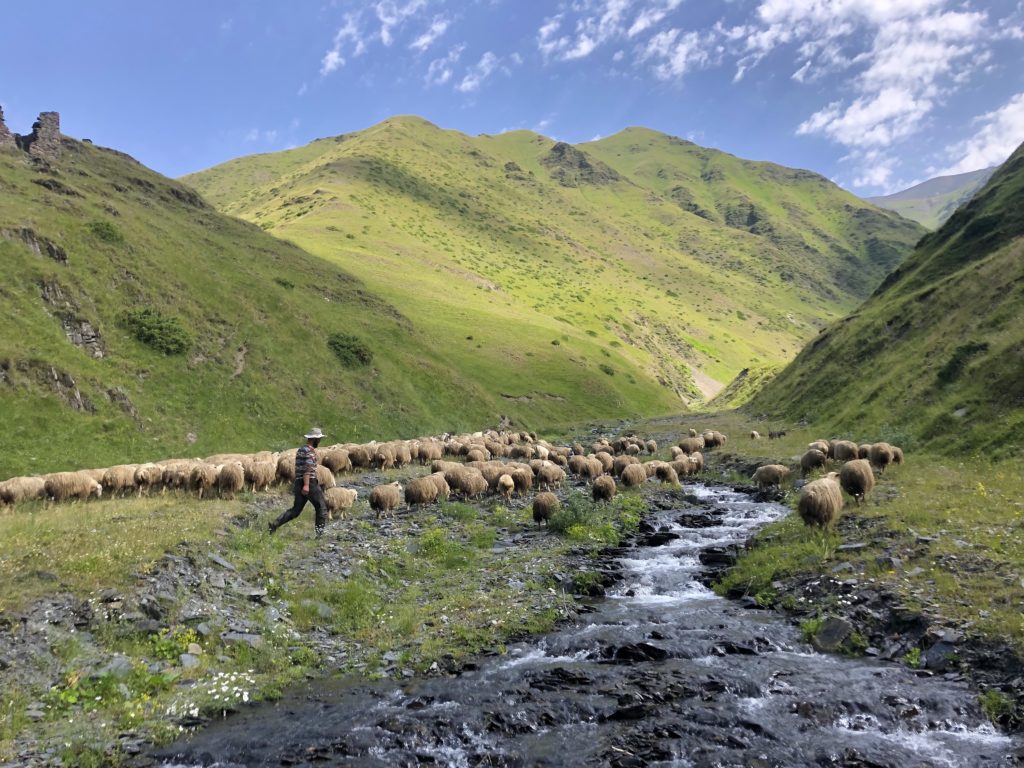 Tushuri Guda is an ancient cheese that is made by the Tushetian herders during their summer transhumance to the Caucasus highlands of Georgia. It was formerly aged in dried sheep hides turned inside out, with the trimmed wool in contact with the cheese. Since the 1990s, plastic bags have replaced the use of hides. There are attempts to revive the use of the skins, and I came to see if I could find anyone using them. I have obsessed over this cheese for years, it has become a kind of holy grail for me, representing the historical roots of milk preservation as an outgrowth of mobile pastoralism.
Mobile pastoralism is an umbrella term including nomadic, semi-nomadic, and transhumant pastoralists like the Tushetians. Cellars, caves, or other climate-controlled spaces were, and are, rare amenities for these groups. In various places, animal hides have been skillfully adapted for this purpose instead. These hides serve as mobile ageing spaces, protecting the cheese from spoilage through salt and moisture regulation. It's an ingenious technique and represents the versatility, resourcefulness, and reliance on livestock that causes me to find these communities and their foodways relevant.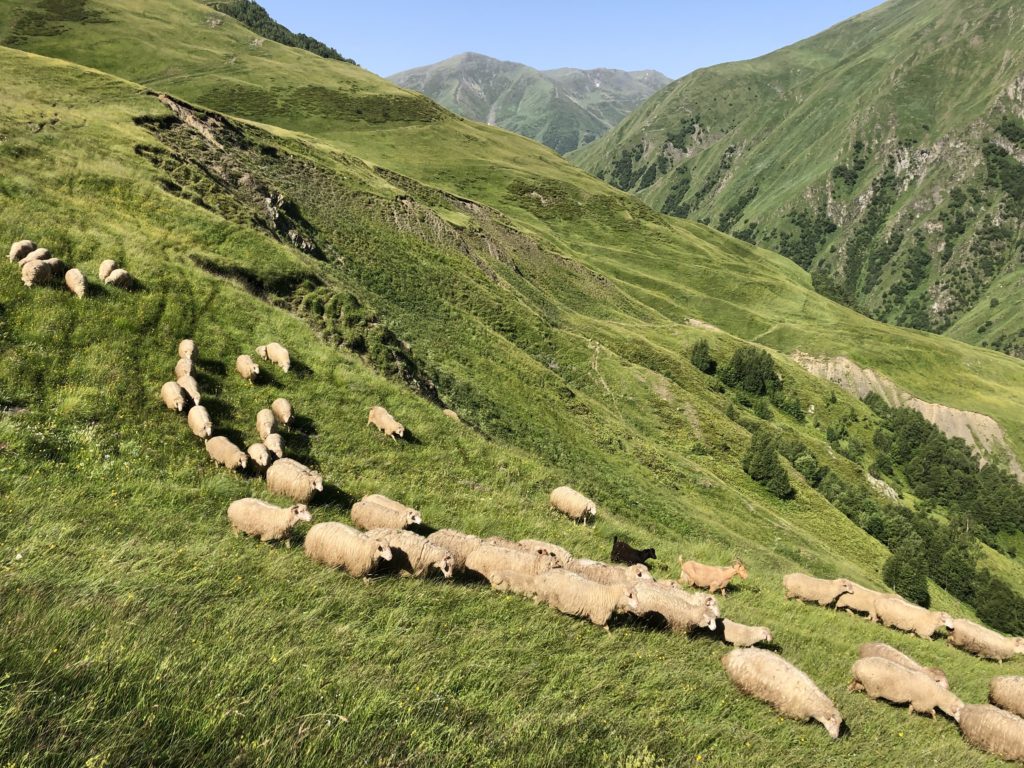 Tusheti is situated in the far northeast of Georgia, bordering the Russian republics of Chechnya and Dagestan. In May, the herds of sheep with some goats, and separate cow herds are brought up to the summer pastures by foot and hoof from two villages at the base of the mountains. It takes five days for them to get into the more remote valleys where I am now backpacking, visiting and staying in camps where sheep are milked in outdoor corrals, and cheese is made in tents or small cabins. The herders all welcome me, despite the language barrier, and immediately offer me coffee, bread, cheese and sheep stew if they have it.
Every evening, the sheep come down from a day spent grazing unattended on steep grassy hillsides to sleep near the camp along a river. At first light, they are pushed tightly into a rough wooden corral made of three aisles. The herders start at one end and work down the aisles, milking each sheep or goat quickly by hand.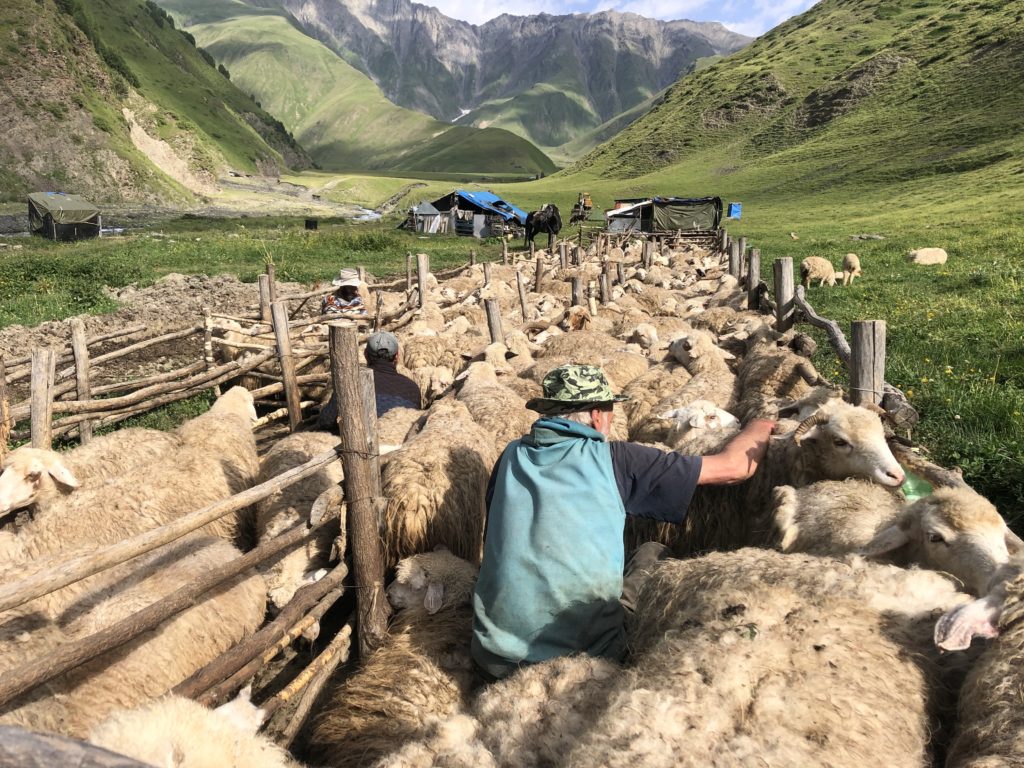 They milk into antique-looking wooden milk pails and pour the milk through a cloth resting over a funnel full of nettles. The milk is then filtered into blue plastic barrels insulated with sheep wool. Hot water is poured into the milk to raise the temp to around 38 degrees Celcius I estimate by hand feel.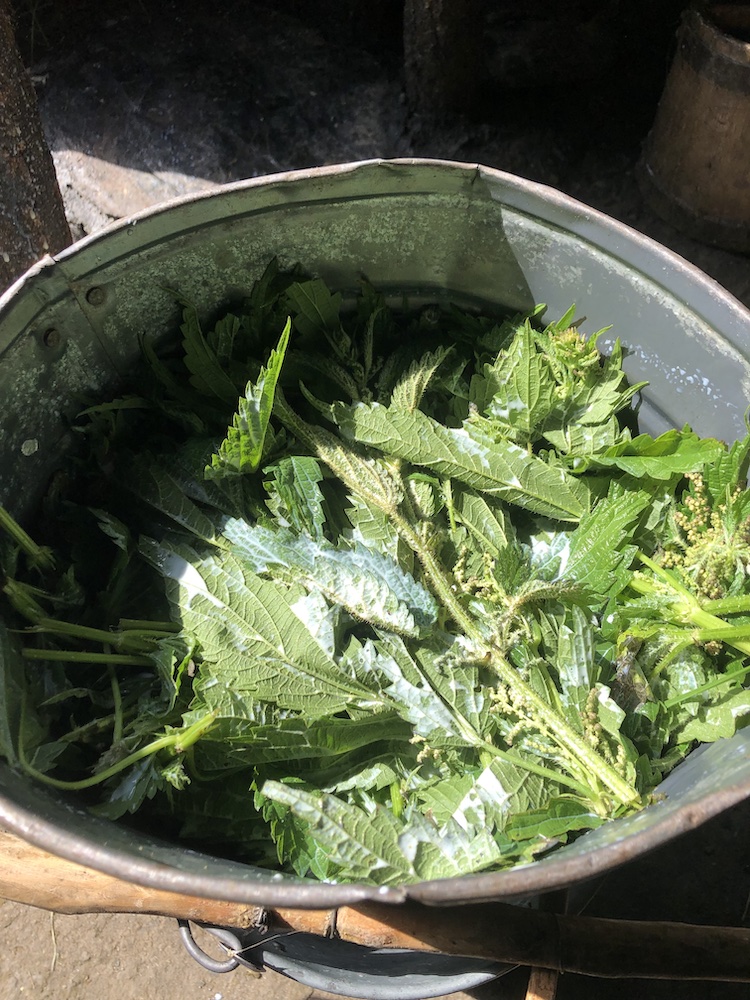 Rennet is added. It is made by cutting up dried calf abomasums full of coagulated milk and steeping them in sour whey. The abomasums (portions of a ruminant's digestive system) are bought from butchers in the lowlands and hung in the rafters of the tents where cheese is made and food prepared, getting lightly smoked from the campfire. The rennet is also a starter culture in this context, with the sour whey being a source of lactic acid bacteria originating from the milk itself. In some places, there is not a distinction made between culture and rennet.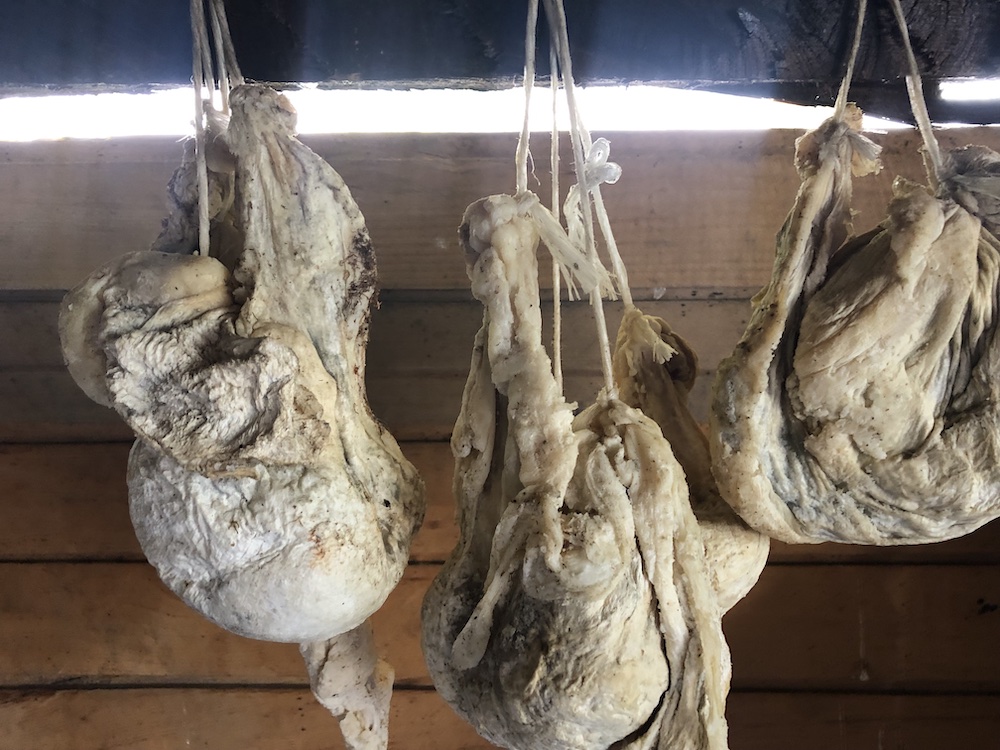 After around one and a half hours, the milk has fermented and coagulated into a soft curd, at this point little acidity can be detected by taste. It is cut with a homemade harp of wood and string. Whey is skimmed off the top and the curd is placed into woven plastic bags sitting in a metal bucket. The curd rests in one corner of the bag, and this is pressed by hand on a wood table to remove whey and consolidate a single cheese.
The cheese wheels are then drained and stacked inside a non-porous plastic bag filled with a heavy handful of salt, and whey. The cheeses then sit in this whey brine inside a shaded tent until they are taken to the lowlands in the fall to be sold.
This process is an interesting hybrid combining well-established techniques and natural materials, with modern industrial plastic. I came here wanting to see the old ways and tools, but I have to accept that the herders are doing what mobile pastoralists have always done: improvising, working with what is available and adapting their lives and foodways to the introduction of new materials. I have come to realise that the more I search for "traditional" cheesemaking, the more I find the word is problematic and limiting.
The concept of "traditional" is a creation and projection of the present. It is often more misguided romanticism than an accurate representation of the reality of historical times. The old ways were never static. There is no clear line between the natural, traditional on one side, and industrial, modern on the other. There is no golden age to return to. That said, there is immense value in looking at these other, older ways of doing things. Our food systems are in serious need of reappraisal, and hopefully, as we move forward we can incorporate some of what has been successful in the past into wisdom that survives in the present.
I came here looking for a cheese that matched my ideals, the opposite of the industrial paradigm of food safety. This had become my grail quest and was likely a similarly grandiose venture. I found a reality that was quite different. The grail appears to be lined with plastic now, and the shepherds have solar panels for charging smartphones.
Perhaps I spoke too soon. A few days later I found my cheese grail at a camp a bit further up the valley, made in a wooden vat and preserved inside a sheep skin. The skins are prepared in spring from a full-grown sheep by cutting off the head and front legs making three holes. The whole rear end, including both back legs, is removed, this will be the main opening of the sack. At this point the hide is removed with only the hands, an arm slid between the hide and the body. The sheep was hand sheared before slaughter (think: really big scissors), which leaves one to two centimetres of wool. The hide is then turned inside out and left to dry in an attic above a house, becoming like crinkly leather.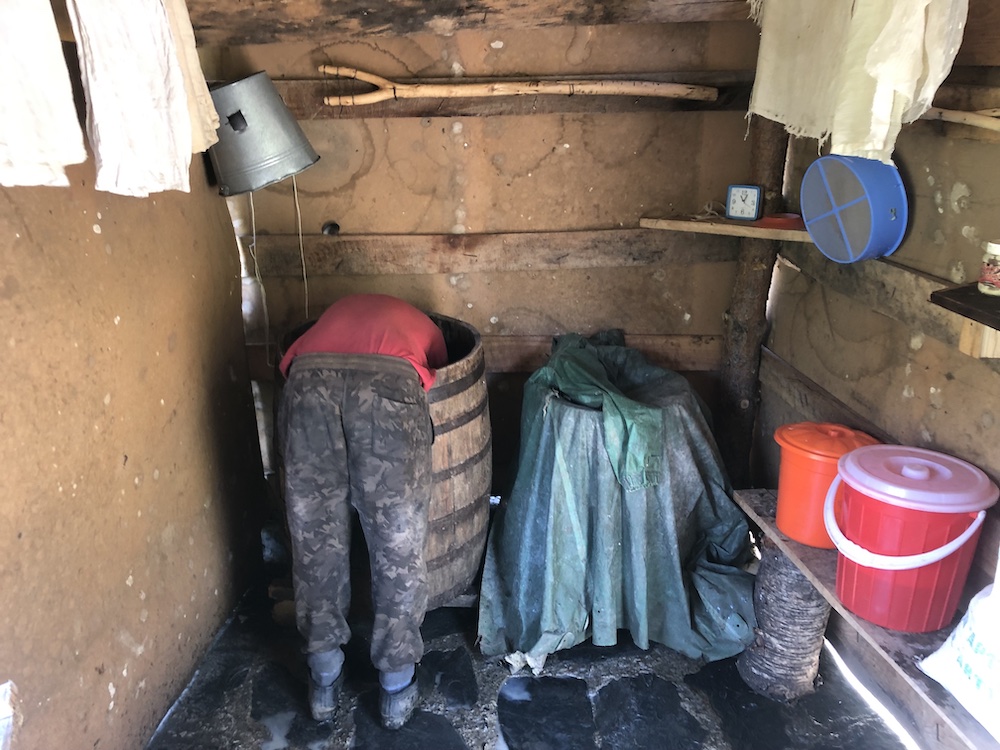 The day before it is to be used, the hide is soaked in hot water until it becomes soft, remarkably similar to a fresh hide. With the wool side out, the neck and one leg are tied tightly with twine. The hide is then turned inside-out again and the main opening of the sack is tied shut temporarily. This leaves one leg hole untied to be used as a blowhole to inflate the hide sack into a balloon to ensure it has no leaks.
Each sack holds four to five round cheeses – one day's worth. Once full, the top of the sack is tied tightly with twine. The single protruding leg is blown into, inflating the sack. This is tied off and it sits in a shaded room containing both cow cheeses in plastic, and sheep cheeses in skins. The skins dry again, with salt deposits crystallising where some salty whey seeps out.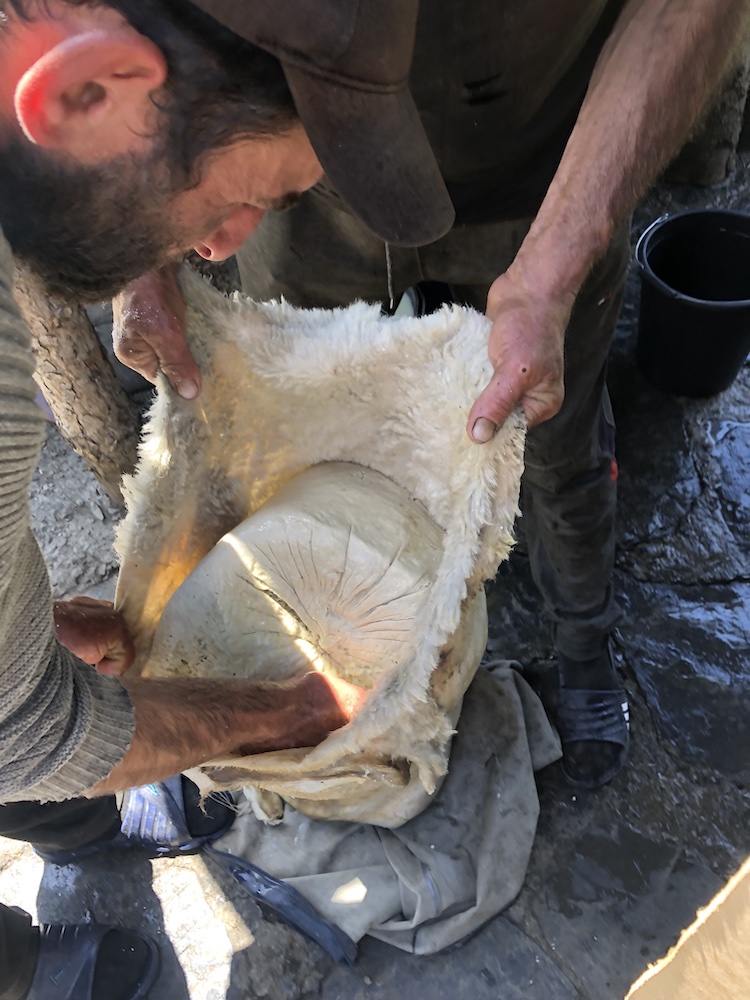 There are other examples of cheeses aged in animal skins to be found in the Balkans, Turkey, Azerbaijan, Northern Iran, and Jordan. And are surely other places I have yet to hear of. I am fascinated with this family of cheeses because of their antiquity, their use of the important gifts of livestock, and their representation of the mobile pastoralist lifestyle in visceral, sculptural form. These are some of the oldest aged cheeses on the planet. When I eat this cheese I imagine this is what cheese may have tasted like 4,000 years ago: salty, like it came from an animal. Zero fancy food vibes. It tastes like the aroma of a barn where sheep sleep. A place deep inside my psyche finds this sensory experience profoundly comforting.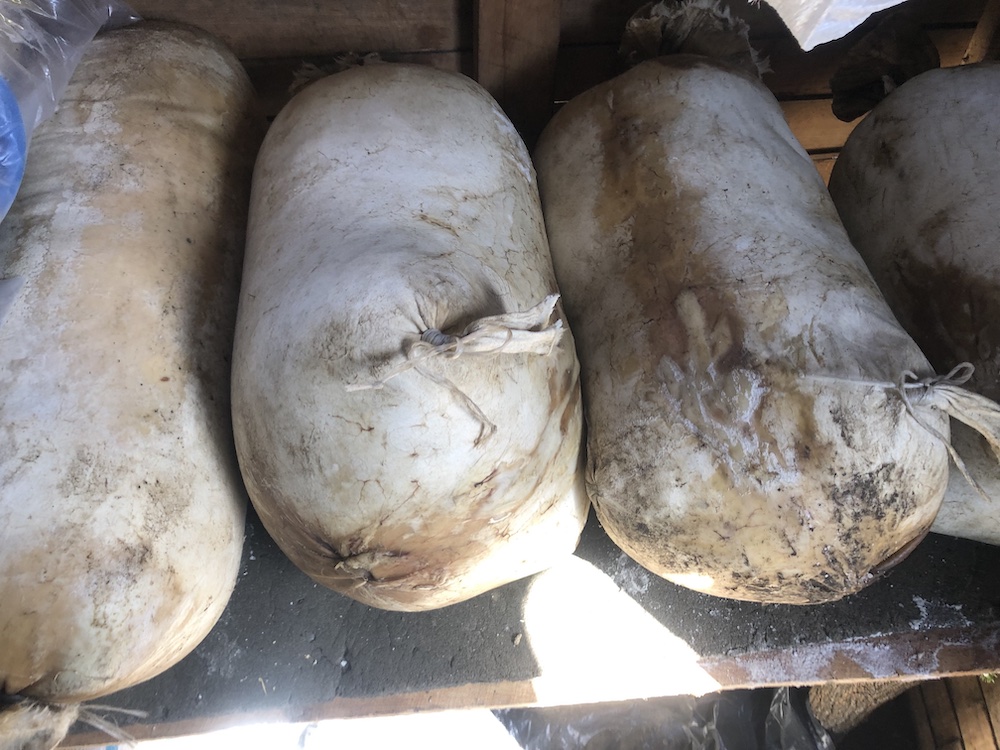 An animal hide is a thing of incredible worth, the value of which has recently been lost. It is not seen as economical to process hides in many countries. It's the same economic system that would slaughter bison for their hides and leave the meat to rot on the prairie. This cheese represents the "whole buffalo" mentality. As much of a romantic misnomer as that phrase is, it is nevertheless a reality that many humans are seeking to return to, based on the principle that when you take a life you honour the animal by using all the gifts that are given and taken.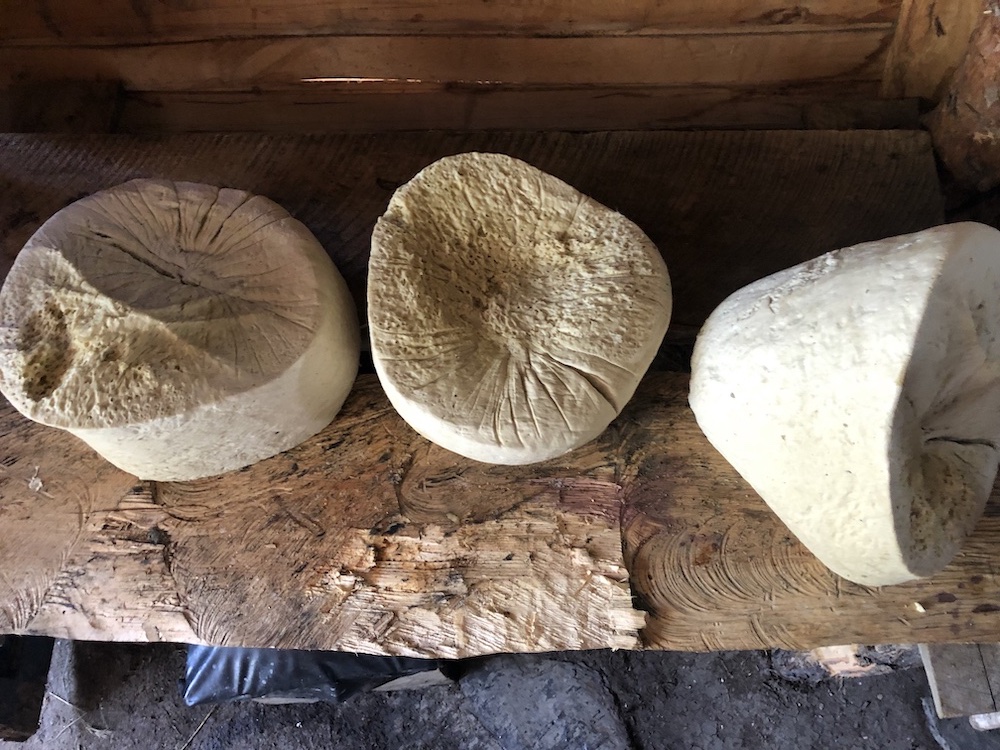 This Tusheti cheese is milk preservation in its essence. It is the opposite of food as a product of a globalised food system that claims good food comes through sanitiser, stainless steel, and people wearing hairnets and latex gloves. It's the opposite of an obsession with sterility and industrial methods of authoritarian control over the microbes in food. This cheese is a protest against a world that has made itself sick and weakened by attempting to remove microbial diversity from our bodies. In a world of food with the life taken out of it, that was never touched by human hands, I find Tushuri Guda a refreshing reminder of other approaches to working with microbes.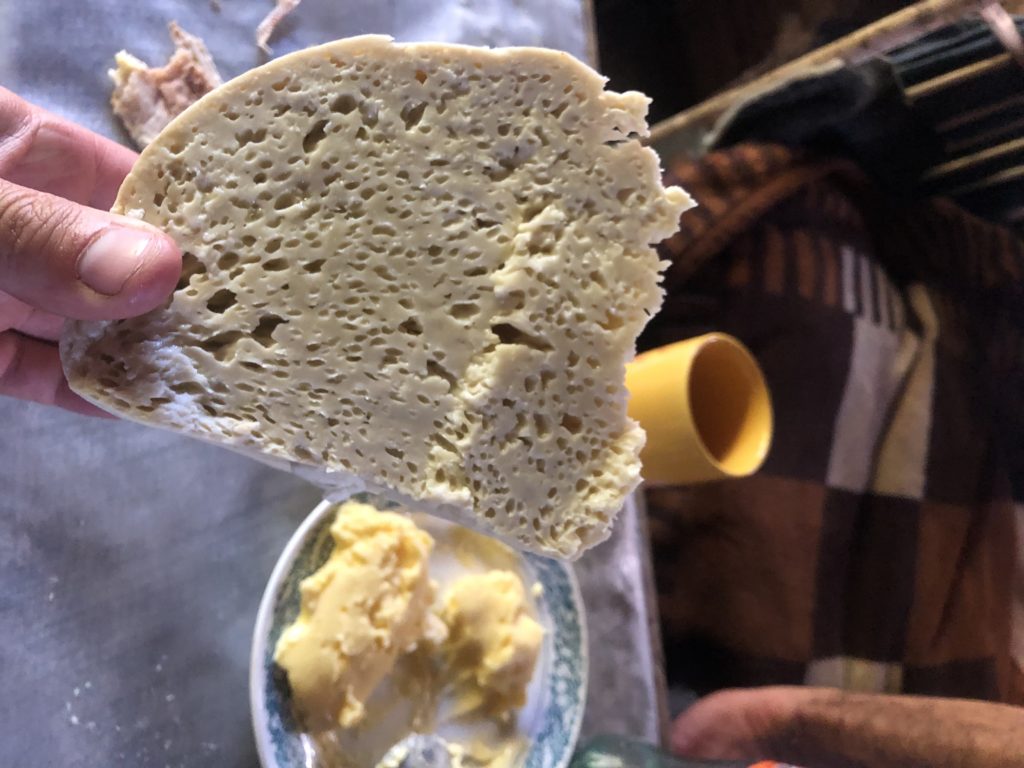 What I am finding in Georgia and other isolated pockets of the world are reserves where other, older ways of living with livestock, interacting with ecosystems and fermenting milk exist. The cheeses here are symbols of larger cultural practices and approaches to existence. These foodways have value as we seek alternatives to dominant paradigms of health and hygiene that have actually contributed to unhealthy relationships between humans, livestock, landscapes, and microbes.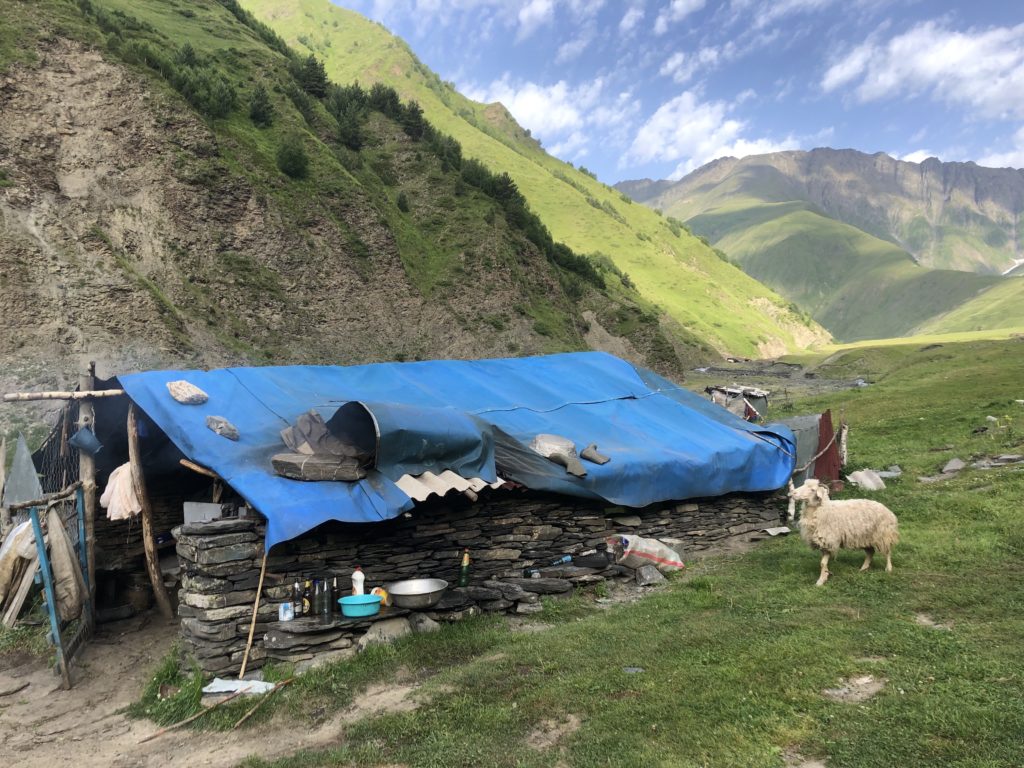 The grail is here – in a dilapidated shack leaning heavily to one side. It is an inside-out sheepskin holding preserved milk, a distillation of grasslands that are maintained by a pastoral culture. Maybe the culture itself is the grail, representing a saner way of relating to land, livestock, and other humans. Maybe the valleys and mountains are the grail, and the people and the cheese are just reflections of this land? Maybe the whole planet is the grail, and this cheese merely reminds me that I have been walking around inside of it, searching for the sacredness that was around me the whole time.
Trevor Warmedahl is a cheesemaker, dairy researcher, and writer whose current project, Milk Trekker, involves spending 18 months documenting the dairying cheesemaking practices of pastoral groups through immersion. He has, so far, worked with cheesemakers in the Slovenian Alps, in Spain's Valle del Jerte, in Lombardy, Italy; Cumbria, UK and many others along the way. He films, photographs and writes about the relationship between human cultures, livestock, landscapes, and microbes as embodied in cheeses as his journey progresses. As he travels, Trevor is also moving in the direction of education around natural cheesemaking and sharing information about the wisdom of working with microbial communities as the basis of milk fermentation and food safety.
Title image: Tusheti Sheep (a slow food Arc of Taste breed) in their milking corral, with milk pail and stool. Photo © Trevor Warmedahl, 2022
---