On December 19, 2020, in the middle of the second lockdown, a new bakery opened in Berlin. With all bars, clubs, galleries, theatres, cinemas, restaurants and shops closed in the city, except for essential suppliers, it was the most exciting thing to have happened in the district in weeks. the Sofi Bakery is billed as an "honest artisan bakery dedicated to low-intervention baking and the taste of old grains" but that description belies an increasingly noticeable food revolution taking place in this particular high-end hospitality and gastro scene. Since Sofi is now Sophie & Orlando Lovell's new local bakery, they also have a vested interest, so they went to talk to the manager, Sören Zuppke, about putting "community" back into an industry in deep crisis.
Sophie Lovell: Let's start off with your new bakery Sofi in Sophien-Gips-Höfe in Berlin-Mitte. It opened barely two months ago and has already become so famous it has 11,000 followers on Instagram and people queueing outside to buy your bread and pastries. Am I right in understanding it is a Danish-style bakery?
Sören Zuppke: I would say we have various influences and Danish is one of them. Obviously, one of the minds behind the bakery, Frederik Bille Brahe, is Danish, but there is also a strong American influence, because our head baker, Marisa Williams, trained with the godfather of breadmaking, Chad Robertson, at Tartine in San Francisco. At Tartine they shifted the baking process from nighttime to predominantly daytime and their bread has high hydration and firm caramelisation, which are processes we were influenced by.
Orlando Lovell: You shifted all your baking to daytime?!
Well we start at 5am and the staff are usually there until 3-4pm. So it is pretty much daytime – for a bakery.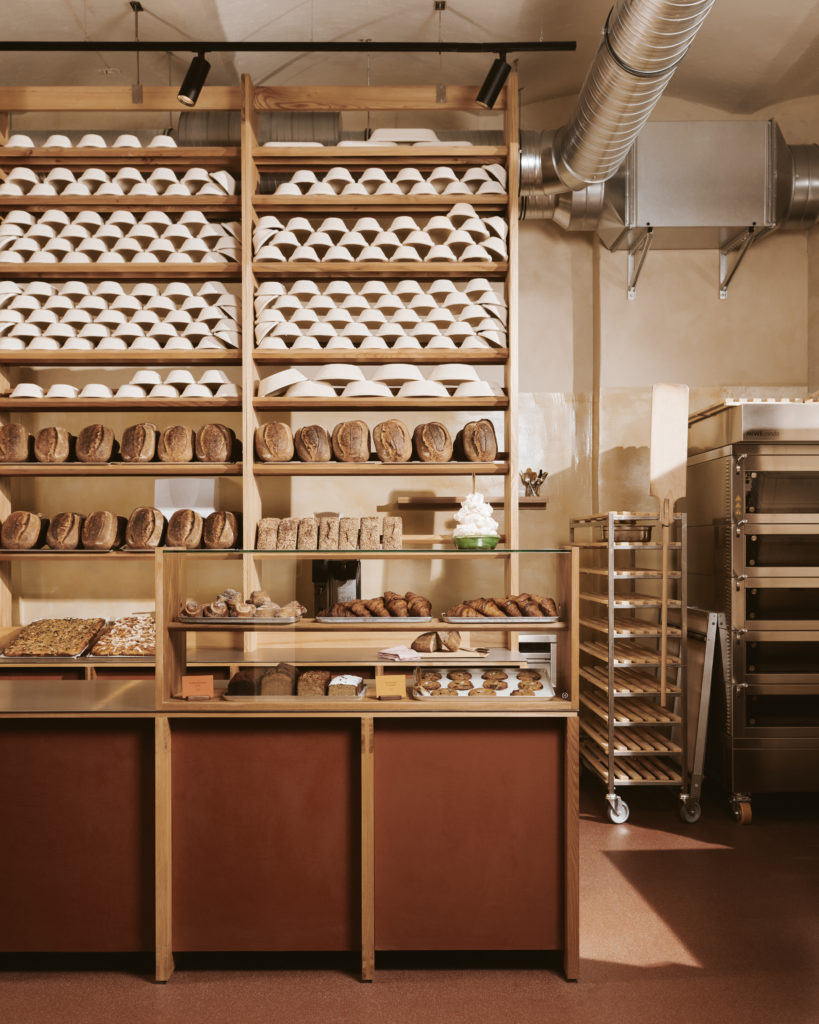 SL: You spent the previous six years in PR as an account manager for one of Berlin's most respected agencies. Why the career change to managing a bakery?
It was a great job, I really liked it and the people and clients were amazing. But I realised slowly that I wanted to be part of the hospitality side rather than the agency supporting the hospitality project. I wanted to make the decisions, I wanted to run the team, I wanted to get my hands in dough – figuratively speaking. It's hard work but I love getting up early: the quietness of the morning, getting to the bakery, brewing coffee, watching the bakers unloading the ovens. Having this moment of stillness is so nice. So it wasn't a hard decision. And it's great to be part of such a project here in Berlin.
SL: There has been a big shift in recent years towards more artisanal-influenced food. What do you think is the bigger picture behind this shift?

I'd say that the first big shift in hospitality was probably the rise of mass consumption alongside globalisation. Foodstuff quantities increased, became more and more accessible, and then cheaper and cheaper. Then the next step was the fine dining experience: everyone wanted to have very fancy, very experimental cuisine. But eating this kind of food is exhausting, you know? For your brain and for your stomach. It's also not very accessible.
OL: It's not for every day.
No, it's not for every day. The world has become complicated and tricky enough and you want comfort. You want comfort but you don't want to compromise on quality. I think this is what a lot of chefs have realised. This is also a shift that has happened in hospitality towards closeness, friendliness and the proximity of your goods: knowing your farmers, knowing your surroundings and knowing your seasons.
I think this is also partly why restaurants like Frederik's three places in Copenhagen or Vadim Otto's Otto in Berlin are so successful. They use techniques they have learned from the previous generation but instead of opening another fine dining restaurant, they take these techniques and make something that is more accessible but is still true to the craftsmanship they have learnt. I also think this is what's so interesting about the Sofi bakery. It's craftsmanship at a very, very high level but it is also accessible.
Of course, we sometimes do a fancy lemon tart that's caramelised on top and looks super pretty, we just like to make sourdough bread rolls with butter and cheese as well. We do whip the butter as they do in fine dining restaurants, but it's still easy and accessible. I think that people acknowledge the quality are willing to spend their money on that.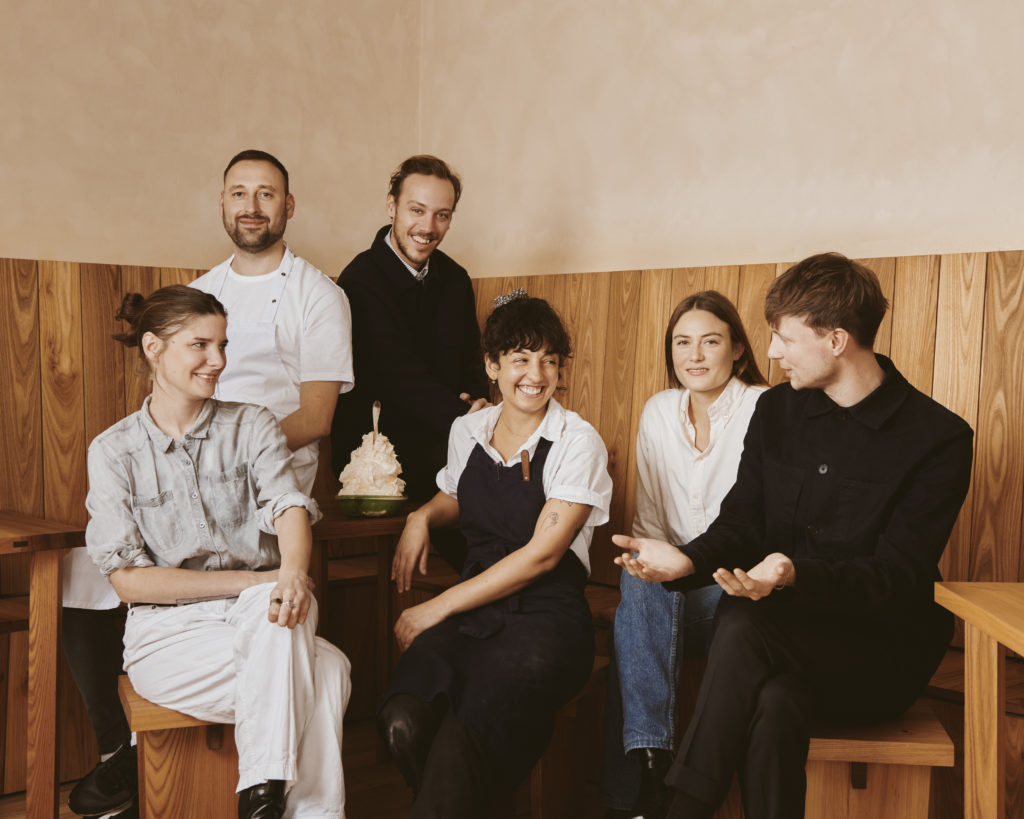 SL: I think "local" is another word that comes to mind: it's a new kind of local that's not necessarily tied to place and tradition, as in "This is the bread that's been made here for 400 years; always-was and always-will be", it's a kind of brought-with or imported local-ness by the people who are creating it. At the same time, maybe you are right, people have travelled enough that they now have a much broader view of what "local" means.
A major factor that has changed with this new generation of hospitality is the new sense of community. There has always been this stereotype of big egos in hospitality: big chefs fighting for their stars and everyone out on their own: survival of the fittest. But now there is a new sense of togetherness. We have a friendly relationship with the Albatross bakery, for example. And we have been supported so much by other restauranteurs like Vadim, Lode & Stijn and by the guys from Distrikt and Annelies. It's a very close-knit community.
SL: Is this something that came along with the pandemic or was it there before?
I think it was there before: a new understanding of "we're in this together". This makes sense, especially in a fairly young food market like Berlin – if the quality rises and we raise it together, then it's more attractive for people to come here. Since Covid-19 this has been more present than ever. There were places that from day one thought: "Okay, it's not just about me surviving but also everyone else in this industry and this community, so why don't we help each other?" Our shelves are also filled also with products from Otto and others. I just ordered a batch of chilli oil from PandaNoodles and Wenzel Pankratz from Forsthaus Strelitz sends me his liver pâté because no one can go to his place right now. It's proven successful because people appreciate a friendly community. Take a project like Up and Coming, where you have a market of young producers that are not in competition, but maybe in collaboration with each other. I like that model much more than the idea of everyone for themselves.
OL: There is also the community you are creating with the people who shop at your bakery – a village bakery always used to be a social hub…
Frederik always said, "This bakery is meant to be a gift to a neighbourhood". We get the city's foodie crowd but also the elderly people of Sophienstraße that have lived there for 50 years come and buy their bread from us. And that is so great. We are very much looking forward to being able to have people sit inside at the big communal table upstairs and use the courtyard more when the lockdown is over.
SL: The job of a baker belongs to the licenced trades in Germany. You need to have a German Master Craftsman's certificate in order to open a bakery – or employ a certified master baker full time. How did you get around the fact that your master baker is from the States?
Baking is an ancient and protected craft in Germany and we want to honour its tradition here. Our head baker is from San Francisco, but we also have a German master baker at the bakery. It is not easy to find one, because it's, unfortunately, a dying craft. The hard truth is, that more bakeries are closing than opening. So it's a system that may need to adapt to the reality of urban lifestyles.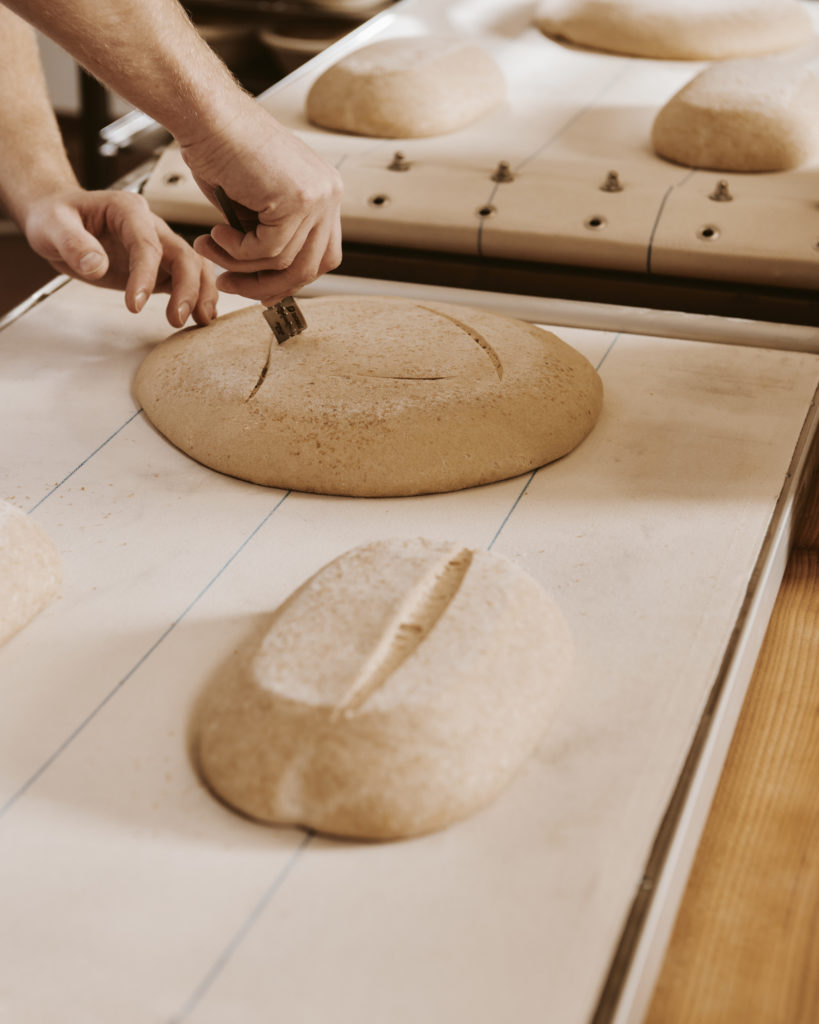 SL: So it's a system that needs to change?
Yes, I think this needs to change. In Germany, just about anyone can open a restaurant but not anyone can open a bakery. There are a lot of young talented bakers out there with a lot of experience in the most renowned bakeries in the world. I think we need to adapt the system to offer them a chance to build something here. Berlin and most other big cities thrive on international influences and talents, so why not invite them into this craft by allowing them to open their own bakery?
OL: Let's talk about flour
We are working with three mills right now. One is Mulino Murino in northern Italy, they have a very strong type zero flour, which is very good for pastries. The second is a fantastic mill outside of Copenhagen called Kornby Mølle, a small, organic family business run since 1982 by Per Grupe and dedicated to ancient grains. The third one is a German mill called Zeller Mühle in the southwest of Germany.
SL: And what grains are you working with?
We use a Danish rye variety as well as different ancient grains like ølandshvede and champagnerroggen, a purple wheat, emmer and einkorn. We also sprout and roast the rye ourselves to make rye malt for our breads. There are more grains to come and we have started to talk to farmers like Benedikt Bösel from Gut&Bösel, who is investigating the cultivation of ancient grains, with the aim of developing and growing our own grains. For us, the idea of our bread starts with the grain and the soil. And I think that's a new process. Most people focus on the type of baking, which is also very important to us, but we always said we want to start with the soil and the grain and then take it to our product.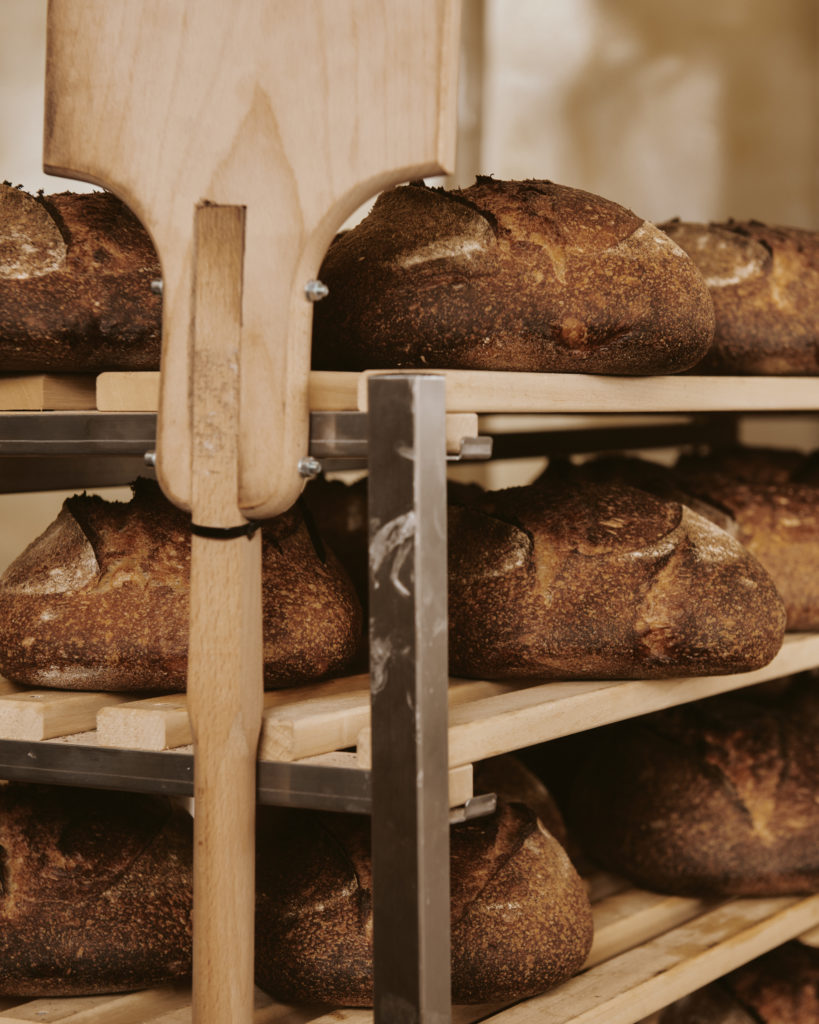 SL: You were talking about collaboration before, do you think that many of these chefs you are mentioning influence one another in their circular approach to ingredient sourcing and recycling?
Yes, a lot. Sharing knowledge is super important. We have a totally different approach to other restaurants and bakeries in town. It's so nice to inspire each other and help each other. In my opinion, there is hardly a baker or chef who could say they invented something new – they were always inspired by someone else. This bakery would never exist without the other restaurateurs or hospitality people who came before us or are working around us. This only works because of the work they have done too.
OL: What about sharing knowledge in terms of flavours? Take your chocolate miso cookie, for example, which for me now is "Of course that will be great!" but if people saw that at the bakers' ten years ago they might have thought: "Oh god, how could that ever taste good?" I think that flavour education can also be seen to be coming from this group of people you are talking about: changing flavours in gastronomy and perhaps common understanding and practice as well.
Yes! This cookie is such a good example because the miso is made from our old bread. So whenever we have bread left over, we give it to Sevko, who is an employee at Otto. They make Kamut miso from it which we get back and put in the cookies.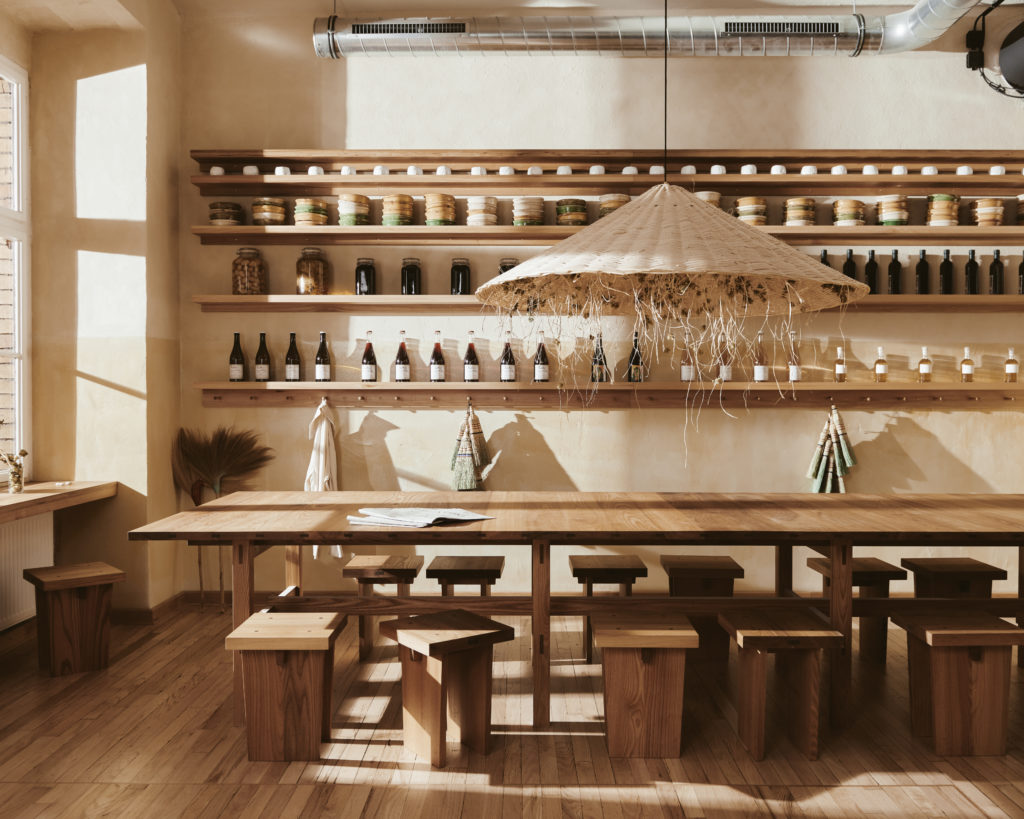 OL: Beautifully circular
Yes, circular. We are also meeting with the guys from Bouche to talk about making vinegar from old bread or kvass, a traditional Slavic fermented drink made from rye bread. It's so nice to share that knowledge and to do something new together, rather than be competitive about it.
OL: I have one more question regarding your idea of "community": Are we talking about a community of locality or a community of the like-minded?
I think it's both. It's as much the old residents of Sophienstrasse and the local office workers on their lunch breaks. This is a super nice neighbourhood and it's very important to us. And then there is also this sense of community that I wouldn't narrow down to Berlin, of like-minded people interested in a new form of hospitality. I think we are as much part of a community with a restaurant in London, the flour mill in Copenhagen and the family in Bologna who makes a fantastic olive oil that we are going to import. People sharing the same ideas and visions and being so ready to connect and up for collaborations.
SL: And I have another, last question: 11,000 followers on Instagram. Bakeries don't have that many followers. Especially if they only opened 10 weeks ago. I mean, I know you worked in PR so I am sure you had quite a bit to do with that. But what did you do?!
I think there are several reasons. One is that every single person behind this project brings an incredible amount of experience. The team around SLOW [the hospitality brand run by Design Hotels founder Claus Sendlinger and Peter Conrads, who are also behind Sofi – ed.] are experts at building innovative hospitality projects and Frederik is a young and iconic restauranteur with an international following, maybe even a bit of a social media phenomenon too. He is so inviting and open, people find what he does very inspiring. On the other hand, creating something new in the midst of all this is something people want to be part of and want to experience. I think the collaborations we started were helpful for that. And we did a lot of reposting. We shared anything anyone ever posted about us, we didn't curate it, because everyone is welcome to come and be part of it and I think that is inviting too. But yes, 11,000 followers in two and a half months is crazy!
OL: You must also bake pretty good bread.
Interview by Sophie & Orlando Lovell
All images courtesy Sofi Bakery; photographer Volker Conradus