Thalia Bassim is a visual artist from Beirut. Orlando got to know her through Karl Moubarak, a fellow student from DAE. Thalia was based in New York but returned to Beirut early during the Covid-19 outbreak, just before the explosion last August that left over 204 dead, 7,500 injured, an estimated 300,000 people homeless and 15 billion US dollars in property damage. Lebanon was struggling with an economic crisis and more before the explosion. It is worse there now. We asked Thalia to write and tell us about the food initiatives she was part of and had encountered as Lebanon's citizens and communities turned to self-help with feeding one another and growing their own food after the explosion, something the people here have been famous for over 5,000 years. But she is still in shock, as so many are. Trying to make sense of what has happened and is still happening. So she sent us a series of emails instead, together with some of her wonderfully evocative photographs documenting encounters, memories and the bountiful Lebanese landscape shaped by farming since the time of the Phoenicians.
---
12th January 2021
Hello Orlando and Sophie!
I'm happy to hear from you again! I'm doing okay. Things are quite fragile over here, we're at our worst in terms of Covid. How are you?
Sure, I'd be more than happy to work with you on this. I have been meeting people actually who have moved out of Beirut to start their own farms with more sustainable and organic ways of dealing with the situation. Attached are photos of Bahaa, taking care of his own plot of land inherited from his grandfather near an area called Chouf. What I found interesting about Bahaa, after spending a whole day with him, was that he was only interested in feeding himself and his family while experimenting and learning about permaculture. But his goals go beyond this plot of land. He wants to join his best friend in Virginia to work on a hemp farm. I think his perspective is interesting because he sees no future in farming in Lebanon, with no support from the government – and he feels like his skills are going to waste.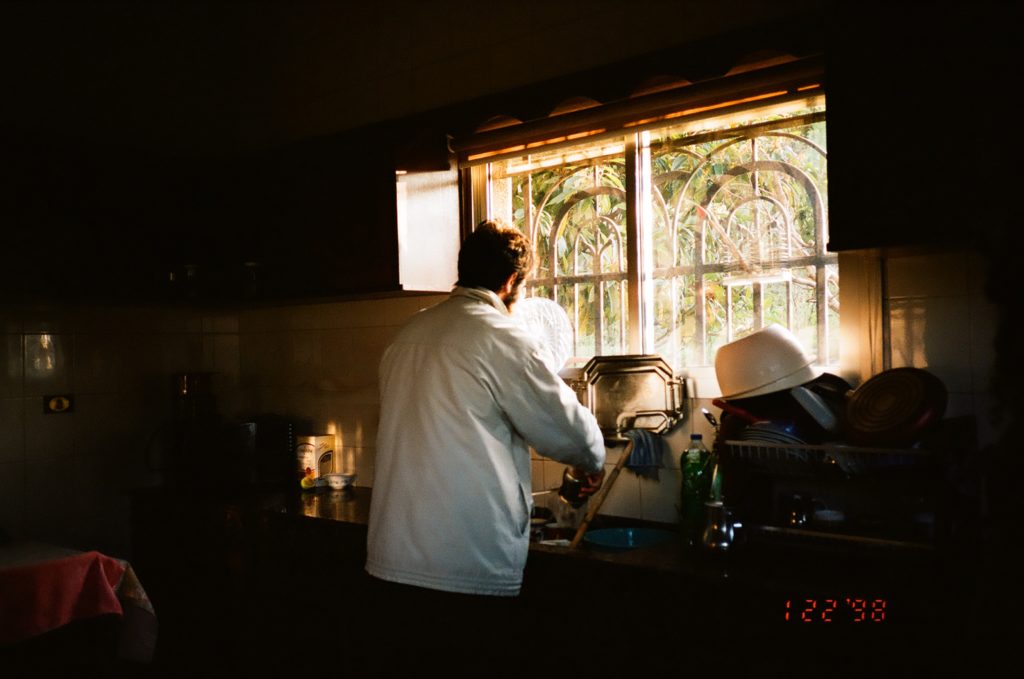 On the other hand, there's Hussein, he has a whole project called Field to Fork. After the explosion, he took over an empty and destroyed gas station and called it "Nation Station" where he would bring as much food as possible from his farm to donate to families around the area. They usually also sell their products at the local fresh market in Mar Mkhayel (one of the most hit and damaged areas post-explosion – which has been rebuilt and functioning since October). Some have interviewed Hussein before but on the local level. I haven't personally asked him about the farm but I am sure I can get a hold of him.
Maybe it would be best to plan a call and further talk about this?
Thalia
---
23rd January 2021
Hello Orlando!
My apologies for the delayed response, I actually got a cold and have been recovering since our chat.
Otherwise, I haven't been able to be as productive as I wanted to, especially with not much physical stimulation. There is a strict lockdown here. I can't really think of how to present something or even make a selection from the photos I've taken over time. I see them as a bit random and I can't seem to box them under one umbrella. I'm not sure how to proceed.
I'm happy you were able to get some sun, it's been so sunny for the past two days after a heavy rainstorm. But it's hard to enjoy from indoors either way.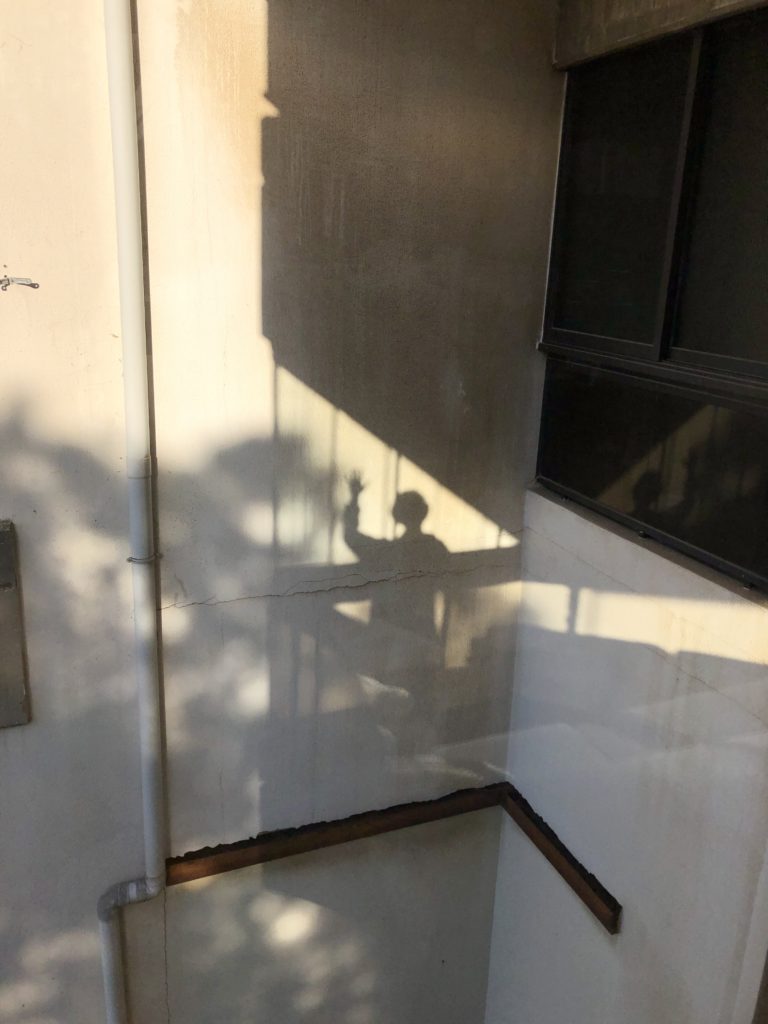 How are you? Let me know what you think.
All the best,
Thalia
---
25th January 2021
Hello Orlando,
I'm glad to see that you are looking out for the sunshine in any shape or form.
I hope you've been having a good start to the week. I actually just came up with something, and I'm ready to discuss it and see what you think. I kept looking at the photos of nature I've been taking (especially in May) and I couldn't stop thinking about the idea of "forbidden" nature – especially in terms of how we use the land here or how people my age think about it. Let me know what you think and we can talk more about it. I was thinking one image would be enough?
The two coloured images I share here are what triggered that thought, I'm sending both because I can't pick one. What's interesting about these two images is that this spot has been quite popular actually for people my age to go and camp and chill around these flood lakes, or fake lakes, as if we don't have real ones! It's quite funny and bizarre. But it's in an area called Falougha, right by one of our main drinkable water sources called Soha.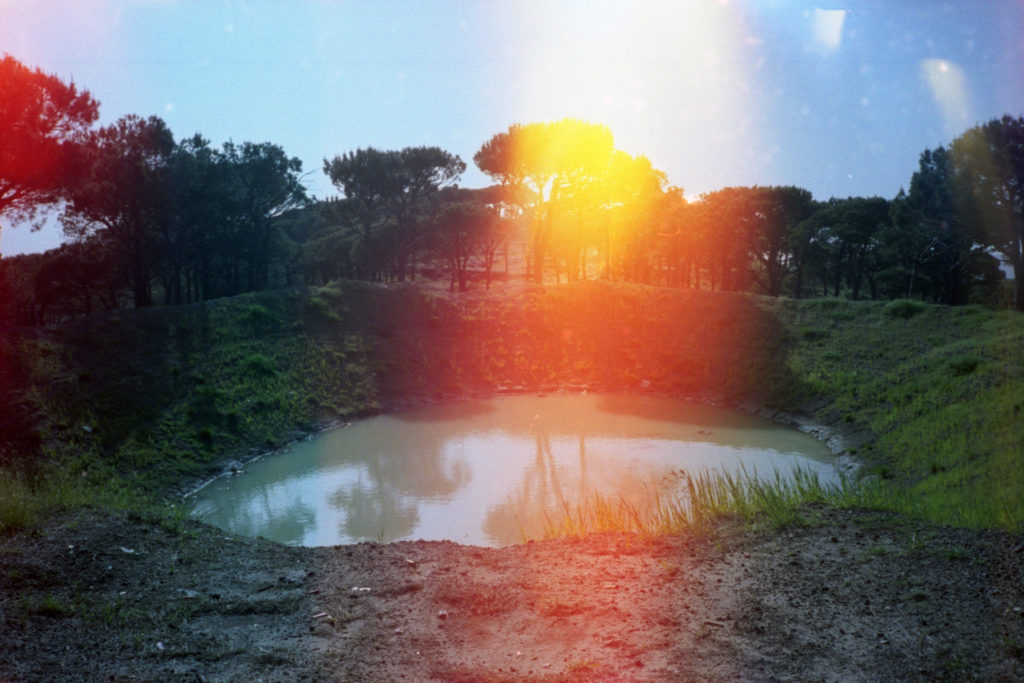 The black and white image, I am sharing as well, has a similar yet different story. My friend and I were driving around the mountains (a day before the explosion) and we saw a pear tree that we just couldn't resist. It for sure belonged to someone as all farming lands are private (the ones I know of), yet we stopped the car and picked some pears and just enjoyed them on the spot. (again, "forbidden") And what's interesting about this image is of how intense it can be, especially since it was taken literally a day before the explosion.
I am looking forward to hearing back from you! Maybe this could be a good last-minute start piece?
Best,
Thalia
---
26th January 2021
Hello Orlando,
I have been thinking about all the images I could've taken if we hadn't been on lockdown – especially of farms and fresh produce.. hopefully soon.
Words like yours are part of what keeps me going. To document for different reasons and listen to other people's perceptions of what they see as we will probably never see or notice the same exact things. Another relevant photo I found from the shoot that day before the explosion was of a goat wandering around. Everything else is of rocks and cave-like things as we were exploring that kind of area. One often runs into a herd of goats or sheep when wandering around the mountains – fits the stereotype!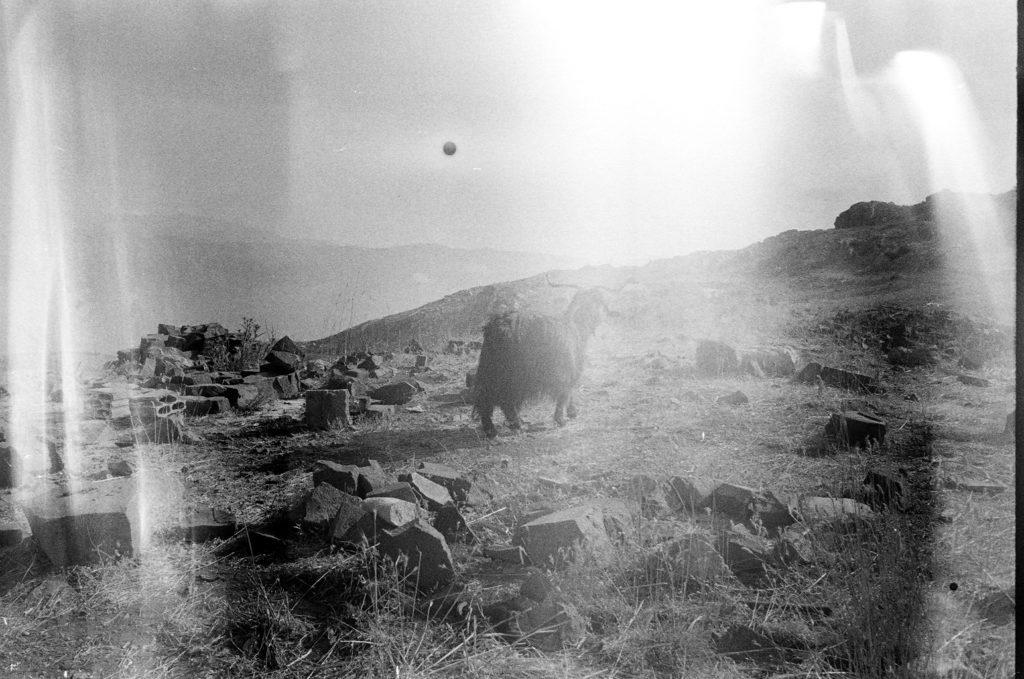 The second image I found is from December 2018, it doesn't say much but I took it when my sister and I went to film the roads and nature around the Beqaa valley (which is an interesting and different story in itself – many many refugees live around that area in container looking houses).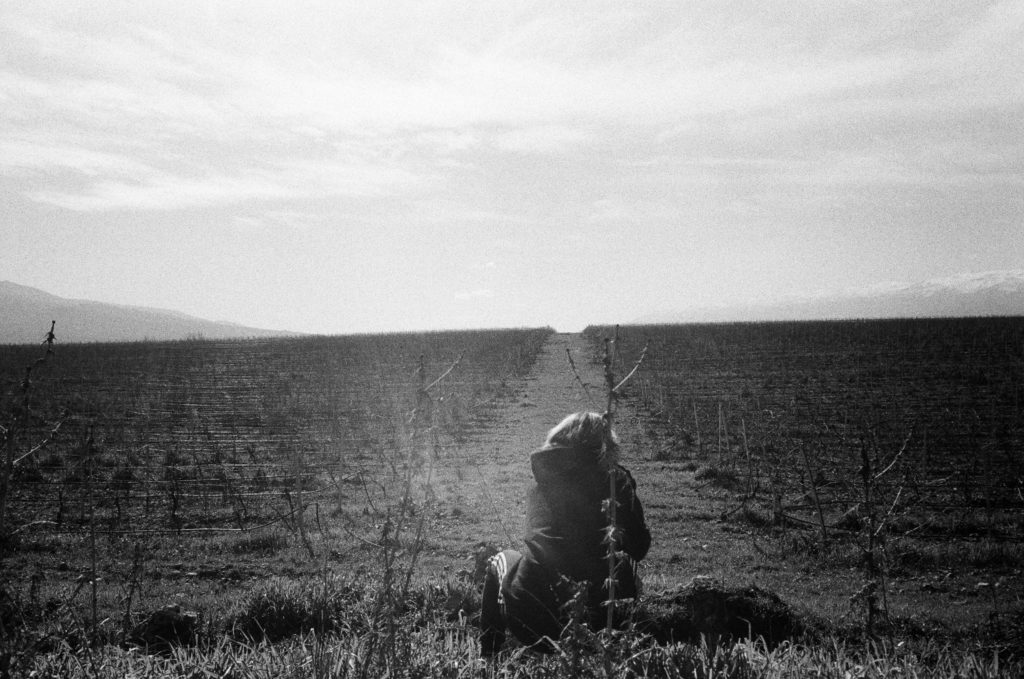 The colour image is from a hike in late August just to look for delicious figs!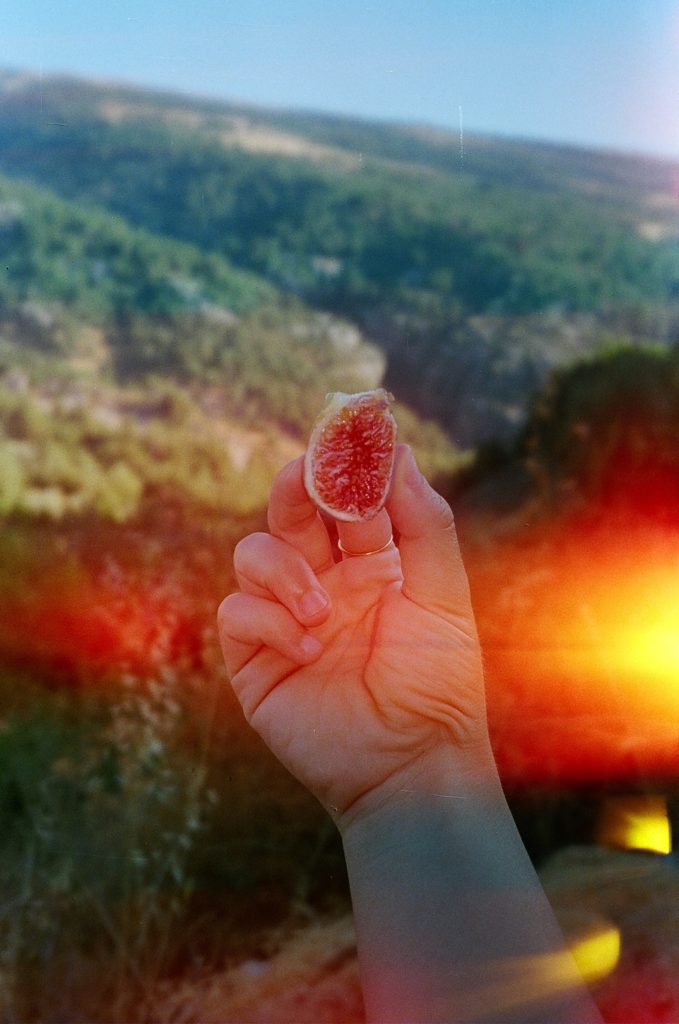 The black and white image is kind of funny. It's of two giant crates of tomatoes that my mom decided to buy from a mountain farmer for a very cheap price (versus market price) so she could make endless jars of tomato puree and save them for the winter (and she did! – the kitchen smelled like tomatoes for at least two days).
The last colour photo is of a man and his sweets cart in the Sidon open food markets. He walks around with it and probably every local merchant buys a bunch from him (every single day). You wouldn't see such a cart in Beirut, that's for sure.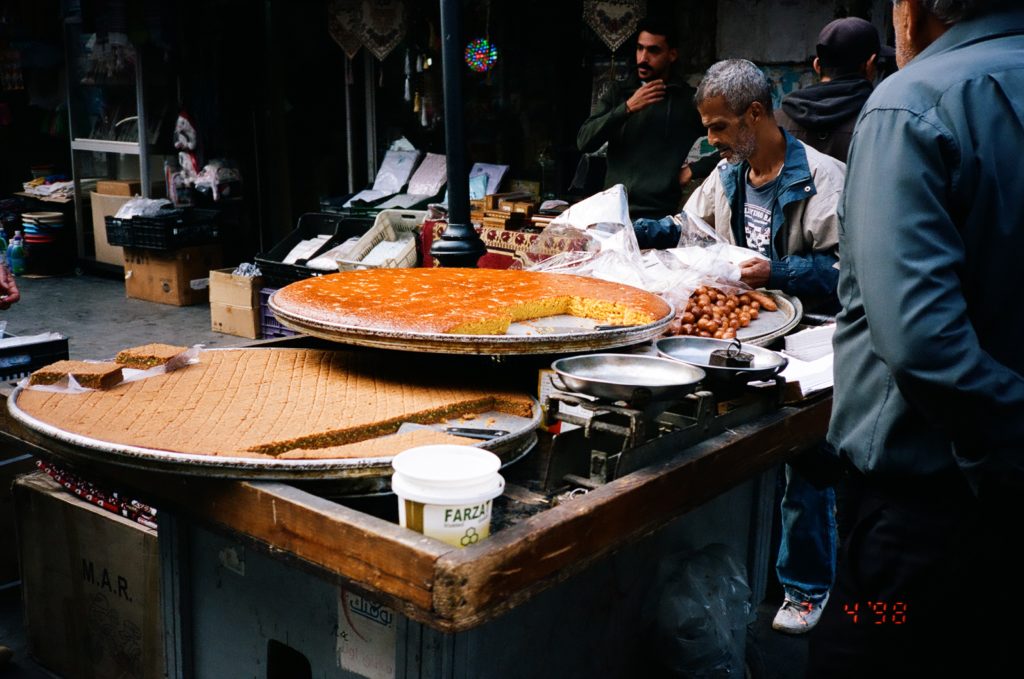 The more we keep going, the more I am digging up certain images.
Let me know what you think!
Best,
Thalia
---
28th January 2021
Hello Orlando,
I am finding it a bit challenging to go beyond this point with no outdoor stimulation whatsoever.. Protests have erupted in the city of Tripoli (in the North) since two or three nights ago and last night was very violent. People were protesting famine and hunger as there is no government support during lockdown (or anytime) as their businesses are closed and they cannot work or feed their families. (especially with the economic crisis) and yet they were met with rubber bullets. I believe one or two people lost their lives.
I think such protests will keep happening, and will probably increase over time unless some drastic shift miraculously happens and the people will have their demands met. Thinking back to the images, and knowing that you are probably launching within the next 2 days, I am mostly thinking about the forbidden/resistance/lack of resources//rotting, and living while being dead – which is something a lot of other Lebanese people have talked about in the recent months and related to the idea of survival.
Let me know what you think.
Sending you my best,
Thalia
P.S. I found this image I took on a hike this summer of this beautiful tree (I am not sure what it is). I was experimenting with a small compact digital camera I found in my mother's closet that we used in 2007 or 2008.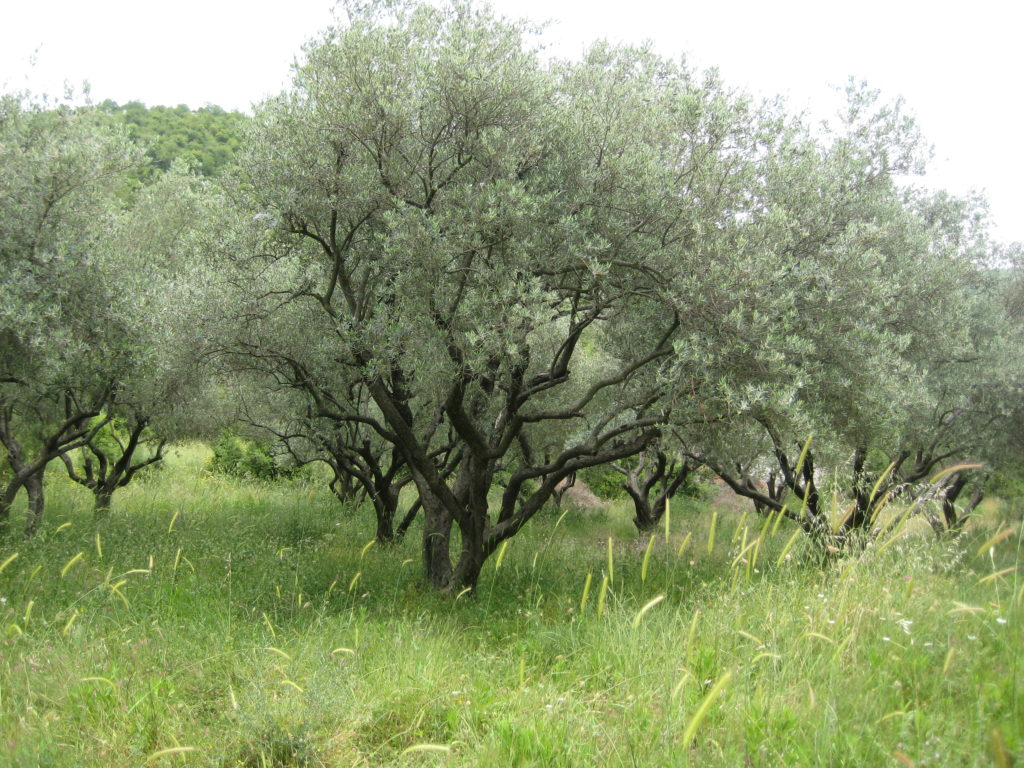 To be continued…