Speculative architect Liam Young explains why his new film Planet City is a future fiction designed to stimulate the mass(ive) ideological shift necessary for future survival on earth. Combining Ghibli-like graphics with a degree of Bladerunner darkness, Planet City is a template for a closed-loop urban environment that may well become a template for future fact.
Sophie Lovell: How did you arrive at this idea of radically dividing our planet into two zones: one of which is a city containing all of the earth's ten billion human inhabitants, the other rewilded and left to nature?
Liam Young: The form of our contemporary cities relies on the fiction of the periphery, that there is someplace outside of our cities where waste goes to be forgotten and food and goods are manufactured. We have done everything we can to separate the site of consumption from the site of production. In reality, there is no outside, we have terraformed the earth from the scale of the cell to the tectonic plate. Our entire planet is in some form a product of cities. Planet City is a speculative narrative of what could happen if we were to radically reverse this planetary sprawl.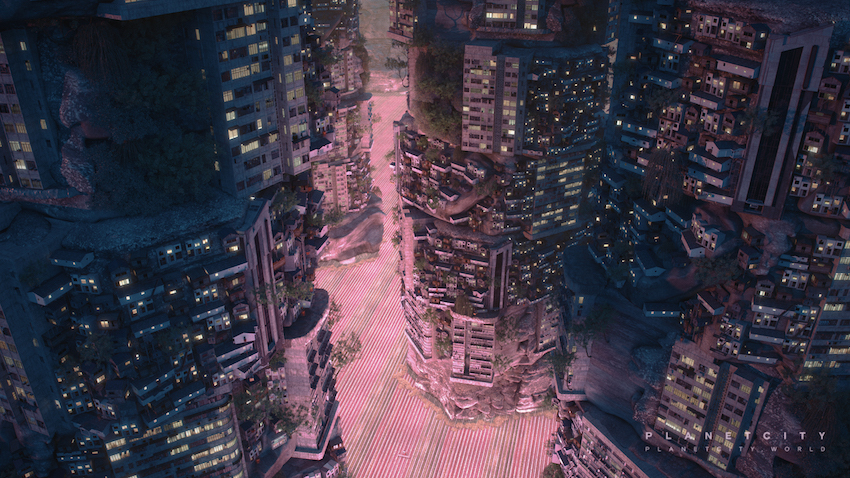 So you did away with the rural altogether?
Agriculture is reimagined as an urban activity in Planet City. The pink glow that washes across the city is the overspill from the rows of artificial suns that feed the stacks of indoor farms. Most utopian visions of the future imagine some kind of retreat to the pastoral, or the mythology of local production. Planet City imagines a new landscape sublime that has emerged from intense pragmatism and the embracing of efficiently engineered food landscapes. This is a form of nature we need to come to terms with as opposed to the nostalgia for a natural condition we can never return to.
"Speculative" means this city is not just not an imaginary figment, but based on, and extrapolated from scientific study and other research and data. What are the core areas of food production within your speculative city and what/whose work did you base the urban farming concepts on?
All of the city's food production is located within the footprint of the city itself. Food waste is processed through bioreactors and converted into fertiliser and fish food and put back into the system. We consulted with a NASA microbiologist, who typically designs the closed-loop waste systems for future Mars colonies, and asked them to explore whether these same systems could be applied to a city of ten billion people.
A vertical network of algae canals produces both a staple food source and powers the city through a network of locally-scaled hydro power stations. Algae is the most efficient food source for converting the sun's energy into calories. In the research phase of the project, I visited the site of the worlds tallest vertical farm in Dubai, attached to the worlds largest catering facility which has been developed by Emirates airline.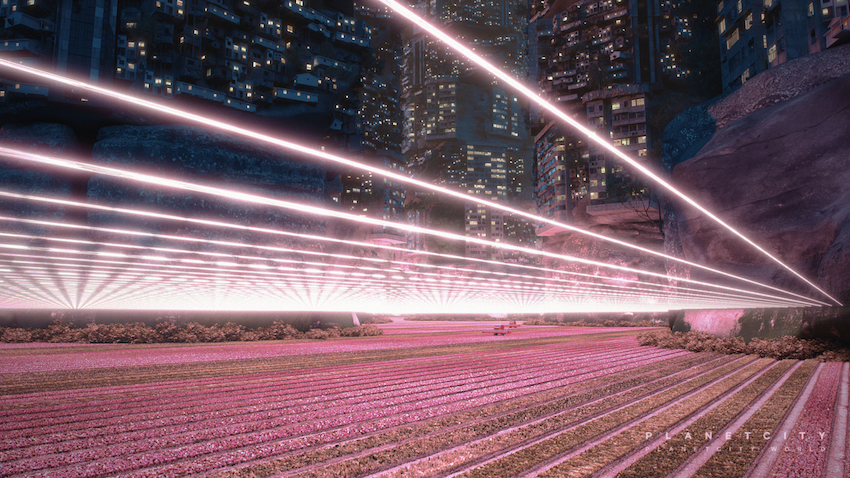 If the rest of the planet is rewilded, that presumably means no extraction of anything from there – no touching it at all. Can humans fly over it and observe? Like going on safari?
Seminal biologist Edward O Wilson has proposed Half-Earth, what he calls an "achievable plan" to stave off mass extinction by devoting half the surface of the earth completely to nature. The byproduct of this global park, however, is the necessity to redesign the realities of the present-day planetary city we all occupy. Planet City begins with this question and prototypes the massive consolidation of our urban development that will be required to achieve this. In its most provocative form, if we were to reorganise our world at the scale of our densest cities then Planet City could actually occupy as little as 0.02 per cent earth – roughly the size of an average US state. It is a microcosm of the planet that will afford us the space to re-wild and return almost the entirety of the world to a global-scaled wilderness. Although this is a fiction of a form of extreme urbanisation it is actually arguing for radical de-urbanisation in that it proposes to leave 99.98 per cent of the planet for rewilding and the return of stolen lands.
This sounds like a massively extrapolated echo of George Catlin et al's National Park initiatives in the US in the 19th century.
At present, we chart territory for the extraction of wealth and the fulfilment of our own desires. But Planet City imagines that the rest of the globe outside of its walls is defined specifically in order for us to leave it empty. Suggestive of a national park boundary we might draw this line on the earth not to own, develop, or occupy, but to keep us out and scaffold its recovery. The model of the national park is perhaps the best way to imagine this act of rewilding. In Planet City technology is deployed to intensify human activity and make more room for an intentional landscape, a carbon sink wilderness and a voluntary exclusion zone. The beginnings of Planet City is the necessary end of human-centred design and the foregrounding of action for non-human species and the development of positions such as wetlands-centred design, atmosphere-centred design or whooping crane-centred design.
A speculative project like this is not just science "fiction", but based on and extrapolated from science and technological fact – like running a world-building model. Is that the case here?
Ideology rarely evolves at the pace of contemporary technology. Most of the systems that Planet City is based on are what I describe as "before culture" technologies. That is to say that they have arrived in the world before our cultural understanding of what they might mean for us. Planet City is built entirely from sustainable technologies that are already here, but that just lack the cultural investment or political will to implement them at scale. To a large extent all of the systems required to mitigate the effects of climate change or even reverse it have existed for years.
Although wildly speculative, the project is a grounded and possible proposal developed from real calculations, cutting edge research, and the support of a distributed council of acclaimed environmental scientists, technologists, economists and authors from all over the world. We just looked at what possible urban forms might emerge if we fully embraced these technologies and implemented them at their most extreme scale. This is a necessary form of prototyping and speculation that isn't an attempt to impose a singular vision but rather the development of counter narratives that could be discussed and debated in order to scaffold larger scale cultural engagement in their possible implications.
In this way, the project is based on the assumption that climate change is no longer a technological problem, but rather an ideological one, rooted in culture and politics. Any plan to address environmental disaster must engage us in this cultural shift not feed us just one more naïve, simplified technological solution. The front line of the climate change fight is now an economic, political and culture battle.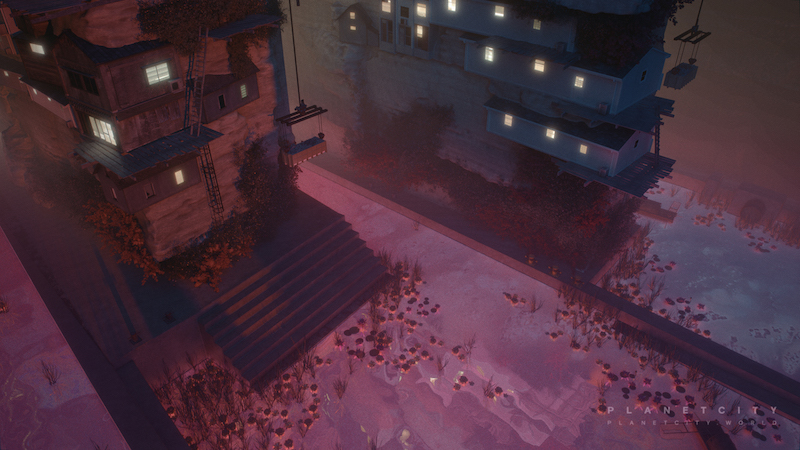 You stress elsewhere that Planet City is an optimistic future vision. Was your choice of visual styles influenced by this? There is a definite Studio Ghibli feel with a bit of Tolkien's Rivendell mixed in, but nevertheless, Bladerunner too, which means the hint of sinister dystopia is not completely gone. Was this intentional?
Sometimes moments, places, or cities are best understood by examining the fictions we construct about them. We are all literate in stories – and they are accessible and public in a way that architectural drawings, diagrams or other disciplinary, specific mediums are not. Fiction is an extraordinary shared language; it is how cultures communicate and disseminates ideas. Narratives of imagined cities help us to visualise other possible futures that sit outside of the one that all too often feels inescapable. The urban imaginary has always been a site in which to prototype new scenarios and emerging cultures. In their speculative streets, we play out multiple, unexpected, unintended futures and their associated social and political ideologies. These fictional cities are products of culture and in turn, can produce culture. As we write stories, we write the world and in this way, such storytelling should be considered a critical act of design.
We need stories to save us from ourselves?
This is critical now more than ever. The dystopias of science fiction that previously read as speculative cautionary tales are now the stage sets of the everyday as we live out our lives in a disaster film playing in real-time. Urban development has forever changed the composition of the atmosphere, the oceans, and the earth. We have remade the world, from the scale of the cell to the tectonic plate. The future is broken and we are left stranded in the long now, doomscrolling idly, waiting out the end of the end of the world. Planet City comes at this moment without a future and is this context it is critical to continue to tell each other stories about what could come next.
In this context, the utopian urban dreaming of science fiction can also seem decidedly naïve, and such optimism requires us to ignore all the evidence at hand. Mot science fiction visions reinforce the assumptions of industrialisation – that density is dirty and congested, always a tragic encounter removed from our natural life in the idyllic countryside. If it is not the colonialist dystopian skylines of cyberpunk, then we are either retreating into a western-centric pastoral nostalgia or gleaming techno-fetishism. Planet City eschews these outmoded science fiction tropes. Planet City is not a project of satire but instead, we must understand it as simultaneously utopian and dystopian at the same time.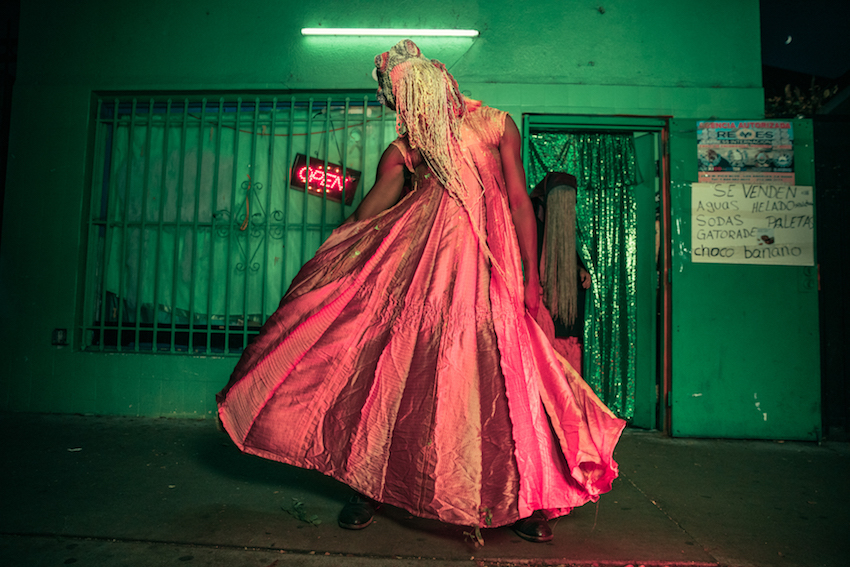 Food systems and production are very much integrated into Planet City and, as we discussed, there is no urban/rural divide. Food has become quite a hot (pun intended) topic in respect to the climate emergency, with food production causing between 10-50 per cent of greenhouse gas emissions. And Covid-19 lockdowns have somehow accelerated hyperlocal as well as mass small-scale food urban production. Have you considered speculating further or in greater detail on global food systems?
Cyberpunk imagined the messy subcultures of the virtual and Solarpunk projects the aspiring communities of Ecotech. The aesthetic movements of science fiction have always been productive in engaging a wider public in visions of what the future could be. At this moment I think we need to define a new aesthetic language for the future. Planet City is an artefact of what we could call "Planetarypunk" or "Infrapunk", a world that embraces the ideological and cultural consequences of planetary-scaled computation. I think exploring the possible futures and imagery that emerges for a deep engagement with planetary-scale supply chains and global food systems is hugely interesting. I think this will become a critical new genre of science fiction that is very necessary.
Interview by Sophie Lovell
Liam Young is a speculative architect and director who operates in the spaces between design, fiction and futures. He is co-founder of Tomorrows Thoughts Today, an urban futures think tank, exploring the local and global implications of new technologies and Unknown Fields, a nomadic research studio that travels on expeditions to chronicle these emerging conditions as they occur on the ground
Planet City was commissioned by NGV Melbourne for the NGV Triennial 2020. It was directed by Liam Young and will be broadcast from the New York Guggenheim as part of The World Around Summit on 30. January 2021 and from there will tour internationally. A few notable venues include the film screening as part of the Melbourne Triennial until April, it will be part of the exhibition "X is not a Small Country" at MAAT in Lisbon in March 2021 and at the Shanghai Biennale in April 2021. There is also a book to accompany the film with essay contributions by Benjamin Bratton, Saskia Sassen et al.