Do cyber cows dream of electric milkmaids? This short, sci-fi mockumentary about a Russian organic farm colony offers a playful take on the pastoral idyll and the usual misconceptions about Russian state agriculture as well as nuanced reflections on the future of food production. Ksenia Starikova talked to director Sergey Vasilyev, about the film and the art collective behind it.
Ksenia Starikova: The usual settings for sci-fi film environments tend to be urban, what made you choose an agricultural one and how did it come about?
Sergey Vasilyev: It was a deliberate decision. I had had this image in my mind for some time of a cow in an open field with a QR code on its side and it being herded by the farmer via that QR code. The rest of the script gradually developed from that first vision. We visited a village to check for locations and just started talking to the farmers there. Their real stories and daily routines then shaped the rest of the story. Nikolay, the main character, talks in the film about his work and lifestyle and – in a comical way – all those drones, spaceships and other tech innovations that appear alongside him are just the usual things in his daily life.
How important was the organic side of the farm for you? How much of a thing is organic farming in Russia in general?
The farm, which is in the Ryazan region of western Russia [around 5 hours' drive from Moscow], is indeed a real organic one with serious intentions from the owners behind it. The topic of sustainability, however, is not that straightforward since agriculture in Russia remains extremely challenging and rarely profitable. So all these farmers – typified by the Nikolay character – who are trying to explore more sustainable ways of doing things, are real enthusiasts and driven purely by their passion. On the other hand, very small farms like this one have always been naturally organic in Russia. They have never really used any chemicals or any of the latest farming technology.
The film is full of little historical and cultural allusions, to scenes from famous Russian Soviet films, for example, and in one case Potemkin villages, how would you describe the evolution of the Russian image you are trying to depict?
Well, the beauty for me is exactly in the different interpretations viewers can have. Of course, it's quite an ironic take, but the irony is more towards the overall context and also all the preconceptions about Russia in general – not its people. The image of Russia globally tends to be more about tanks and defence rather than good stories and nice simple things. And while it's not entirely wrong, characters like Nikolay here are incredible, they are doing the best they can with the means available.
You also did very well with your available means. Films like this tend to cost millions and involve hundreds of people…
The shooting itself took only a couple of days but the editing and special effects work afterwards took more than two months. In total, the whole production took us around four and a half months. We were also keen to keep the whole thing outside of any formal creative set up. We made this film as a pure art collective, [Birchpunk] with over 30 creative freelancers working on different aspects of it.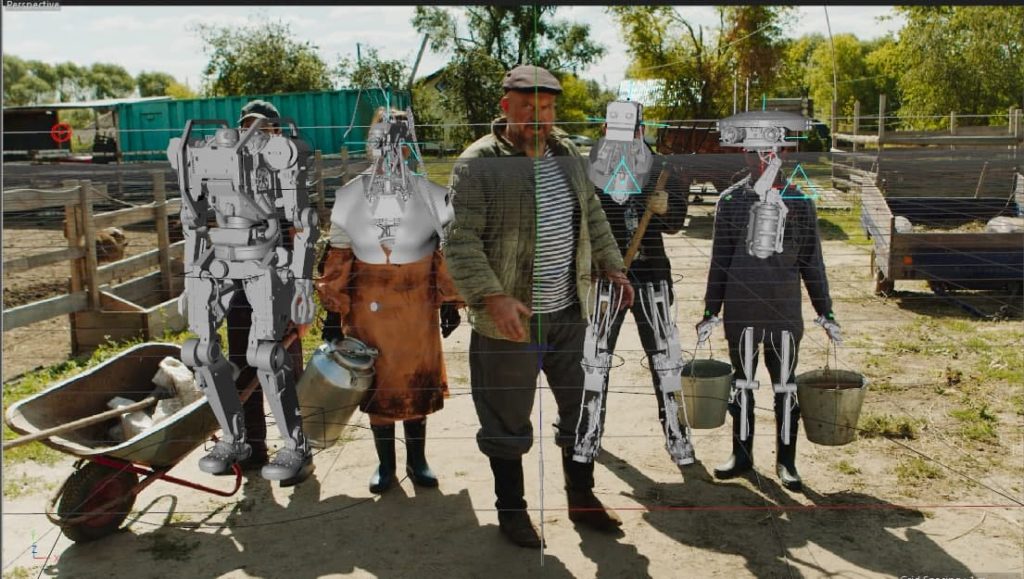 "Russian Cyberpunk Farm" was released on YouTube in November 2020 and has had some nine million views so far. What's next for your collective and the Cyberfarm? How did 2021 start for you?
Encouraged by such a global response to the video, we are going to continue with the Birchpunk project and focus more on that direction. The team behind it is super energised by the great reaction but it's also important to us to keep it arty, light and fresh, and not too serious – or too attached any names or institutions to our work. We are already working on a few follow-up shorts to be released hopefully later in 2021 – watch this space!
Interview by Ksenia Starikova