Understanding food systems is about more than just putting calories in bellies. Food helps us to understand our place in this world, therefore education relating to and involving food is crucial, but what form should it take and where are the new nodes of learning?
In this five-question series on food and education at The Common Table, we ask experts from all over about their strategies and practices for fostering a healthier relationship with food. Here: artist Inês Neto dos Santos, co-founder of Food Cosmogonies, an online course for reconceptualising the world through food.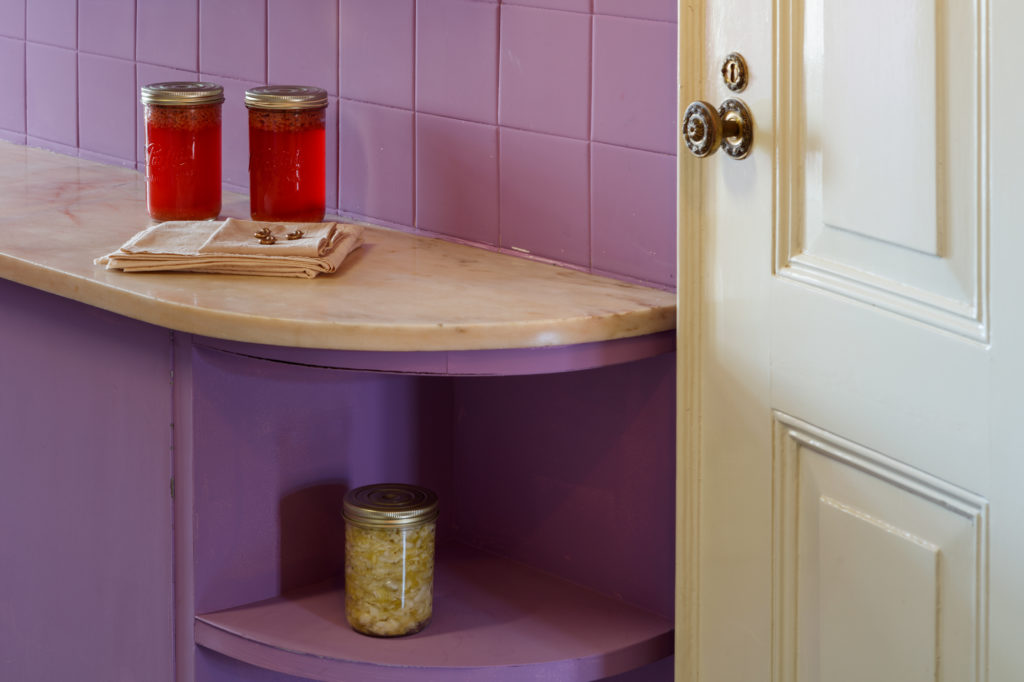 The Common Table: How would you explain your perception of food as an educational discipline to someone who might think that means just cookery lessons?
Inês Neto dos Santos: Food is a means of perception, a lens through which to see, understand, and relate to the world, to our immediate surroundings. Perceiving food as an educational discipline, or tool is a way of engaging the world via our mouths, our stomachs, and our guts. It is a crucial, even urgent, embodied way of learning. Our existence is embedded in food – as basic sustenance, but also as culture, as a social and political system, and as a way of relating to others.
Our food systems are our life systems. Once we take a deeper look, we begin to understand that all of these elements are deeply interwoven. Our history as a living planet is a history of food. Kelly Donati puts it brilliantly in her 2014 essay The Convivial Table, where she explains that eating a meal at the dinner table is not only an act of feeding oneself and others but also a gesture of "metabolic intimacy" with all the elements, lives and practices that bring food to our plates: the soil and its microbes, fruits and seeds, the labour of growing, harvesting, selecting, delivering, cooking, preserving, preparing… and all the knowledge grown, created and regenerated through these actions. It's an infinitely entangled web.
The Common Table: What are you doing to change education related to food?
Inês Neto dos Santos: For me, this is more a question of how food can change the way we see education. Systems of academia and education today are overwhelmingly outdated and unfit for purpose. They are reliant on hierarchical structures of power, one-size-fits-all and burdened with bureaucracy. Learning through food and with food (or, simply, learning food) can serve as a more horizontal educational plane, a less hierarchical, more collaborative way of learning based on exchange and not competition.
When we examine food from its source – and, for example, discover that food may grow everywhere and anywhere, even by the side of the road – we learn that it does so in an ecology of collaboration, based on reciprocity, resilience and abundance. Particularly when we examine processes of food preparation and preservation, it is possible to find an infinite web of interconnections that defy ruling concepts of scarcity and individualism.
For me, speaking through food, learning through food; exchanging food is an incredibly powerful tool for changing the way we learn – not only about food itself, but about the world in general, and our place in it. Learning through making, tasting and exchanging knowledge as well as questioning that knowledge are the things I'm interested in bringing to the table – quite literally. This thinking relates a lot to what we are pursuing with Food Cosmogonies, a course I founded in 2021 with artist Nora Silva.
The Common Table: Who are you trying to reach and teach and why?
Inês Neto dos Santos: I'm tempted here to say anyone, everyone! But I suppose as an artist, it's been interesting to reach audiences outside the art realm because of the very fact that I work with food. And that's an interesting place to be: outside the echo chamber. And also realise I have as much to teach as I have to learn, or rather, even more to learn than I have to teach. Creating opportunities for teaching is also creating opportunities for learning.
The Common Table: Where would you like to take your work in this field; what are your goals?
Inês Neto dos Santos: I want to keep going, to keep cooking, fermenting, preserving, growing my own food, cooking for others and sharing learning around food in that way. To exist in spaces of knowledge exchange, always. I'd like us to comprehend food not as a discipline but as a context, a foundation – as this web we are inevitably embedded within, even when we don't see it.
The Common Table: What is the big-picture perspective in terms of the future of food education?
Inês Neto dos Santos: Food growing in every school, collaborative cooking in every school. Learning to identify plants as a young person, becoming confident about food from an early age. Realise that the web of life is a web of food, as Vandana Shiva keeps telling us. Making your own food is a regular, daily practice and not a luxury. We don't all have to be farmers but we do all need to understand their fundamental importance.
Inês Neto dos Santos is a multi-disciplinary artist and educator, based in London and Brussels. Her practice moves between performance, installation and social sculpture, investigating food in its intertwined socio-political, cultural and ecological dimensions. Through her work, Inês creates contexts and frameworks to explore collaboration, generosity, care and togetherness. Trained at the Royal College of Art in London, She is co-founder of The Gramounce, a collective researching contemporary politics and exploring how to best convey our research through food and art and Food Cosmogonies, an online course dedicated to the conceptualisation of the world through food, which she founded in 2021 with artist Nora Silva.
Title image: "The Weight of the World", Inês Neto dos Santos, exhibited at "A Hunted Time", Casa Capitão, 2021. Photo: photodocumenta.