Food helps us to understand our place in this world, therefore education relating to and involving food is crucial, but what form should it take and where are the new nodes of learning?
In this five-question series on food and education at The Common Table, we ask experts about their strategies and practices for fostering a healthier relationship with food. Here: Andrea Trimarchi and Simone Farresin of Formafantasma, a research-based design studio investigating ecological, historical, political and social forces shaping the discipline of design.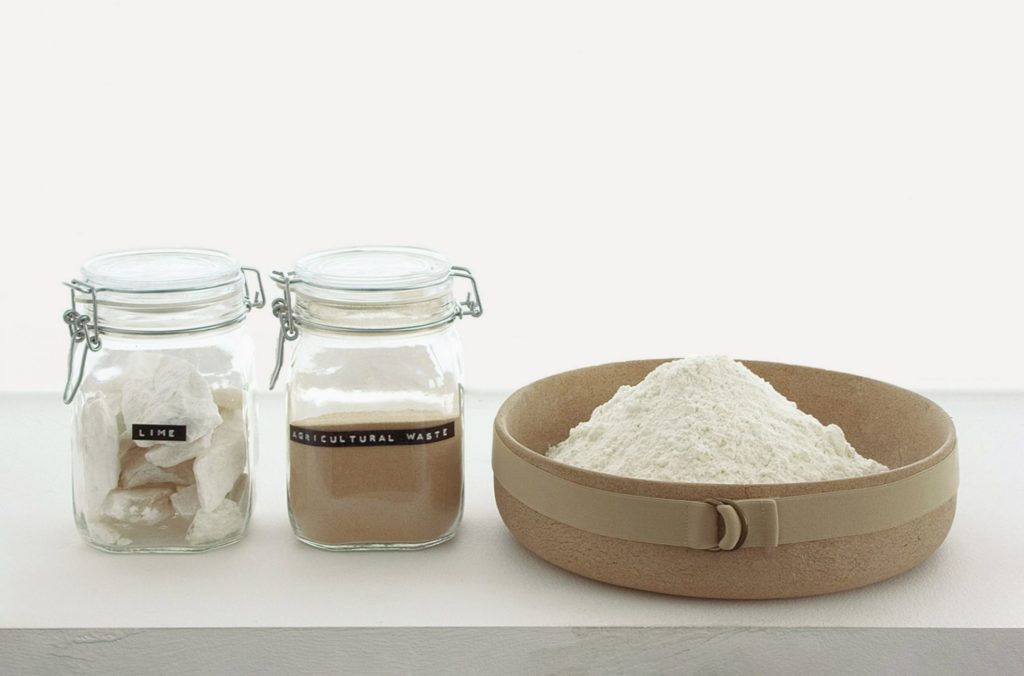 The Common Table: How would you explain your perception of food as an educational discipline or tool to someone who might think that means just cookery lessons?
Formafantasma: The most primal need together with breathing is eating. Preparing food is an act of world-making. Even simple dishes like a tomato salad with mozzarella intersect different geographies, biomes, species and histories of collaborations, exploitation and sometimes colonisation.
Food tells the story of how humans through cultivation and cooking evolved and spread in the world in search of fertile grounds and other species to dominate and domesticate. When you decide to support or not certain food industries, cooking and eating become a political act.
This short introduction is just to say how food should become the most important educational discipline that, in these troubled times, could become an important tool to fight social injustice and climate crisis and to re-balance our relations with creatures other than humans and the environment at large.
The Common Table: What are you doing/have you done to change understanding related to food?
Formafantasma: In some of our past projects we discussed the political role of cultivating food and how, in times of scarcity, local materials and simple gestures, like cooking, could eventually become a means of production.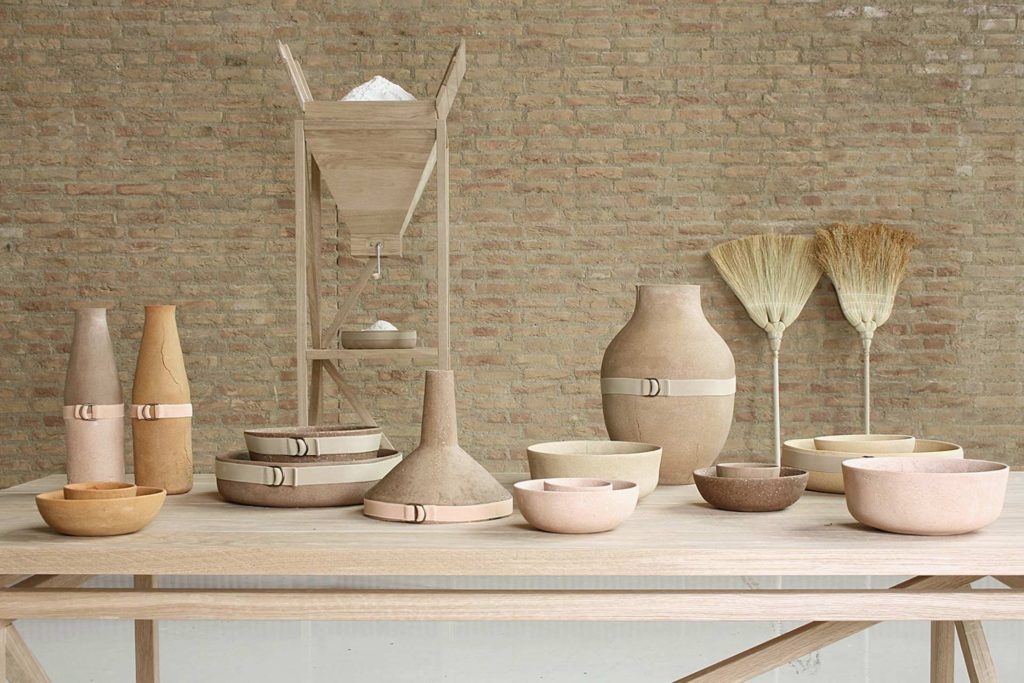 Our project Autarchy, for example, is an installation that proposes an autonomous way of producing goods and outlines a hypothetical scenario in which a community embraces a serene and self–imposed embargo, and where nature is personally cultivated, harvested and processed to feed and make tools to serve human needs. Autarchy pays homage to the uncomplicated, the simple and the everyday. In the installation, a collection of vessels naturally desiccated or low – temperature dried are produced with a bio-material composed of 70 per cent flour, 20 per cent agricultural waste, and 10 per cent natural limestone. The differences in the colour palette are obtained by the selection of different vegetables, spices and roots that are dried, boiled or filtered for their natural dyes.
The Common Table: Who are you trying to reach and teach and why?
Formafantasma: Our design studio is equally divided between research projects and commercial ones. One informs the other. In this sense, we believe our practice has the ability to speak with a broader public. The research projects give us the time and freedom to investigate topics that are very difficult to face with commercial clients.
More and more the two sides of our business are colliding. Nowadays clients are more aware of the scope and depth of our work and while still commissioning to design objects, we are engaging in more in-depth conversations to rethink their operations from how to extract, transform, and distribute more responsibly and ecologically products
The Common Table: Where would you like to take your work in this field; what are your goals?
Formafantasma: Whilst we don't a specific focus on food studies, we are very active in education and food is often a topic we investigate with our students. Since 2019 we are the heads of Geo-Design at the Design Academy Eindhoven in The Netherlands. It is a platform to explore today's social, economic, territorial, and geopolitical forces shaping design. Our department within the two-year master's course acknowledges the legacy of industrial production as the fundamental source for the expertise and agency of the designer in contemporary society while problematising and addressing its historic contribution to environmental and social instability and its incompatibility with models of sustainable or even survivable futures.
Geo-Design assembles a framework of diverse knowledge – from material histories to cultural world-views, from humanism to ecology, from plant and animal rights to artificial intelligence and from Earth's core to outer space.
In Geo-Design, trans-disciplinary collaboration is not only a way to increase the scale and depth of research, but an ethical position that respects the expertise, lived experience, skills, resources, or communal significance of individuals and institutions in other fields. These interrelations ask designers to address environmental responsibility, politics, inequality, and other issues arising from the design's complicity across multiple industries, communication networks, and aesthetic cultures.
Our goal is to engage with the next generation of designers that hopefully will be even more radical than we are. Complex problems must be addressed collectively and with long-term and profound solutions.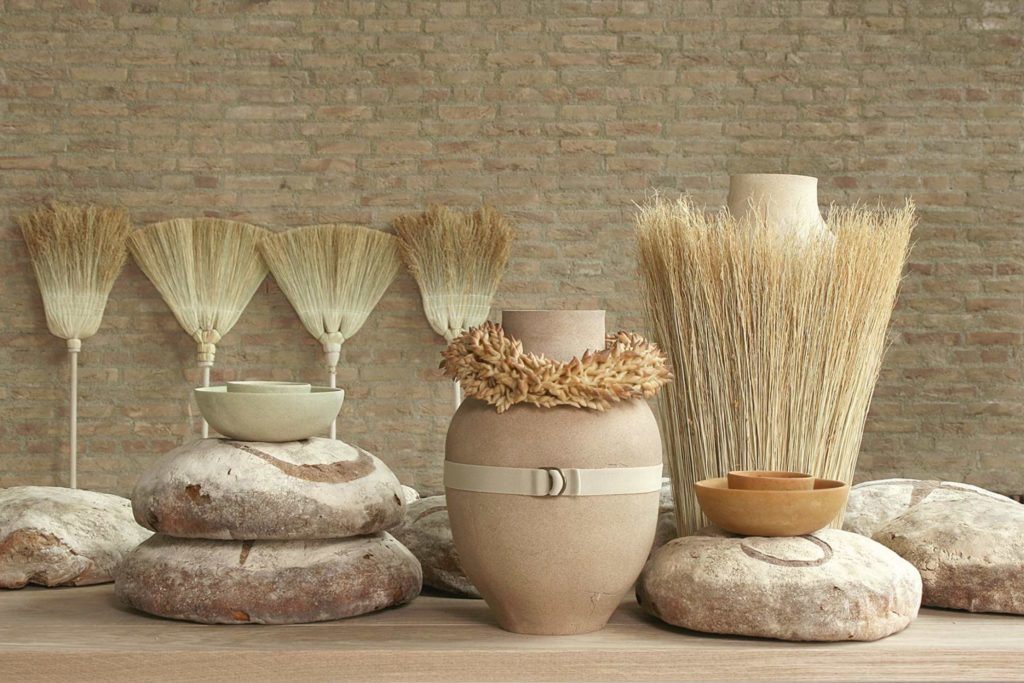 The Common Table: What is the big-picture perspective in terms of the future of food education and where is it coming from?
Formafantasma: Food is one of the most progressive and forward-looking disciplines, always at the forefront of the most social and political urgencies. Back in the 1980s, the Slow food movement was already highlighting all the environmental, ecological and social issues of the contemporary time, proposing solutions and a different culture of cultivating cooking and distributing food all around the world. We believe that in the near future the better use of crops, less use of fertilizer, and a re-balanced relationship with animals and their by-products will have a huge impact on the future of humanity.
After graduating from the Design Academy Eindhoven (where they now teach the Masters course Geo Design, the Italian designer duo Andrea Trimarchi and Simone Farresin founded their studio Formafantasma ("ghost form") in 2009. They are champions of the need for value-laden advocacy merged with holistic design thinking. Their aim is to facilitate a deeper understanding of both our natural and built environments and to propose transformative interventions through design and its material, technical, social, and discursive possibilities. They have studios in Milan (Italy) and Rotterdam (The Netherlands). Their work is in numerous collections including The Metropolitan Museum, Musée des Arts Décoratifs, V&A, MoMA, Triennale di Milano, Vitra Design Museum and others.
Title image: Luisa Zanzani, courtesy of Formafantasma.