Food helps us to understand our place in this world, therefore education relating to and involving food is crucial, but what form should it take and where are the new nodes of learning?
In this five-question series on food and education at The Common Table, we ask experts about their strategies and practices for fostering a healthier relationship with food. Here: Malena Martínez, co-director of the Mater Iniciativa research centre in Peru, binary star to her brother Virgilio Martínez's restaurant group.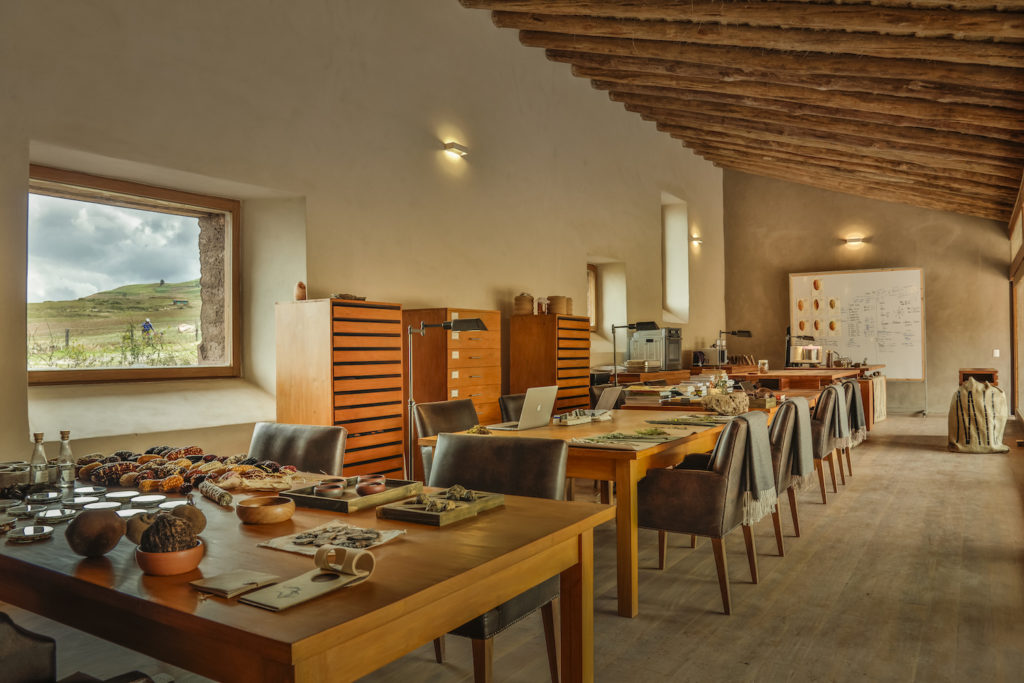 The Common Table: How would you explain your perception of food as an educational discipline to someone who might think that means just cookery lessons?
Malena Martínez: I think people started noticing the impact of what we eat on our environment (social, environmental, cultural) a long time ago, and progressively. And the truth is, it's all about knowledge. We only appreciate what we know. And what we eat is precisely what we lack knowledge about. In its full dimension. Where does what we eat come from? From whose hands? Since when, and what does it give us, not only in terms of nutrients but in relation to who we are, to our identity and culture?
The Common Table: What are you doing to change education related to food?
Malena Martínez: Education goes through the way we make information accessible to people in a world that demands more and more immediacy and more and more conciseness in our messages. If the way to communicate is through social networks, there is little space to say deep things, but through audiovisuals, you can tell a lot. And reach millions of people. Though we know the best way to let people know about what we are doing is by motivating them to come and experience it all firsthand.
We aim to find a way to not say too much, but for this info to get integrated into your being.
Gastronomic proposals can be designed to function as tools for the transmission of messages. In Central we talk about the ecosystems of the Peruvian territory, at different altitudes, and how in the Peruvian Andes people relate to their environment vertically, going up and down. That is very powerful. It's about understanding where things come from and how your vision of the world can modify what you do and who you are.
The Common Table: Who are you trying to reach and teach and why?
Malena Martínez: The world! Hopefully! Our country and our entire region have a lot to share. About the origin of products that are now common for the rest of the world (cocoa, corn, potatoes, tomatoes, quinoa, among others), and their entire context. And also about other foods that have been very important sources of nutrients for previous civilisations…Andean grains, besides quinoas; other roots and tubers, besides potatoes and legumes, which today represent a huge potential considering the climate changes that are impacting the ecology of sites in a major way.
The Common Table: Where would you like to take your work in this field; what are your goals?
Malena Martínez: We have different routes: the gastronomic one is the most powerful, and the one that for reasons of fashion or trend is usually the one that leads the way. Each experience we propose is a real journey through the products of the territory and its stories or conveys a special ritual or ceremony that happens in a particular season. But then there are also our art and culture projects, which incorporate designers or artists into our ecosystems, working with local communities to create art pieces or to design utilitarian pieces that later become part of our culinary experiences for visitors. Such as containers, cutlery, or liquid vessels.
The Common Table: What is the big-picture perspective in terms of the future of food education?
Malena Martínez: The ideal goal would be to get more people to understand the complexity of the universe of each product and appreciate and value its existence, and therefore seek to consume it in the closest way to who produces it or to pay the value of something that grew up in a healthy environment, in a healthy way.
The concept of health more and more integrates good nutrition. Before, I understood that the only way to treat heart disease is through medication and the same applies to any other physical condition. Today there is a growing understanding that what we eat has everything to do with our balance and mental and physical well-being. This was very well understood by our ancestors, who connected directly with what they cultivated, and if not, who learned from what they ate and offered to their children, prioritising harmony in both nutrition and ecology. To be good with the environment was to be good with oneself and vice versa.
In a community in Amazonia, I was told that man must take advantage of what covers his hunger and thirst. Nothing else. If he overdoes it, he breaks the balance and gets sick. In the Andes, they believe the products you grow and make food from are the result of hard work, being good to your surroundings and being an active part of your community. In the end, all stories about people and food just make sense.
Malena Martínez was born in Lima, Peru and is a doctor by profession who specialised in nutrition. Together with her brother and chef Virgilio Martínez, she created the interdisciplinary research and interpretation centre, Mater, with the goal of recording and highlighting the huge bio and cultural diversity of her native country and bringing gastronomy closer to science, arts, humanities and local crafts.
Malena is also the manager of the gastronomic concepts Central and Kjolle in Lima, and MIL in Cusco, and is in charge of designing the projects and Mater actions in Casa Tupac (Lima) and Mil. She was also involved in the group's publications: Central (pub. Phaidon), Mater Catalogue (pub. Editalo), MIL (pub. Catapulta), and The Latin American Cookbook (pub. Phaidon).